Catholic League's Bill Donohue Says Obama Should Apologize for Using Crusades as Example of 'Terrible Acts' by Christians; Says Crusades Fought Against Islamic Jihad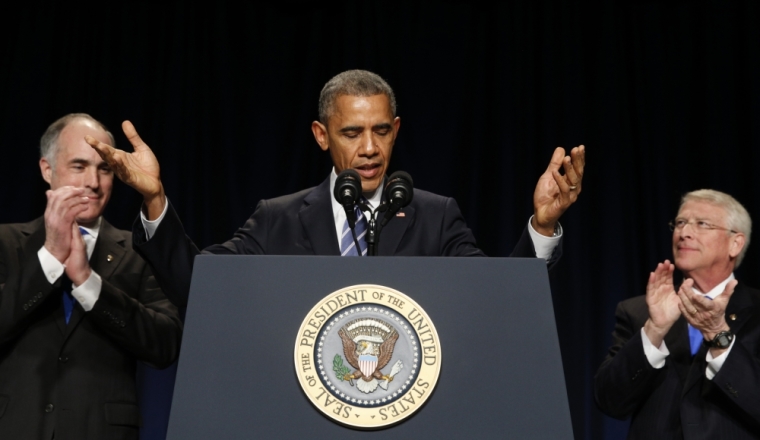 Bill Donohue of The Catholic League has criticized President Barack Obama for his recent comments at the National Prayer Breakfast, where he used the Crusades as an example of people doing "terrible acts" in the name of Christ. Donohue, who called on Obama to apologize, argued that the Crusades were carried out against Islamic jihad.
"The president should apologize for his insulting comparison," Donohue said. "Obama's ignorance is astounding and his comparison is pernicious."
In his speech on Thursday, Obama talked about the dangers of religious extremism, referring, in part, to terror group ISIS, and said: "Unless we get on our high horse and think this is unique to some other place, remember that during the Crusades and the Inquisition, people committed terrible deeds in the name of Christ."
The Crusades were initiated by the Roman Catholic Church's Pope Urban II in 1095, with armies from Western Europe sent to fight against rising Islamic forces in the Holy Land. While a contentious topic that continues to be debated by historians, Donohue argued that they were a "defensive Christian reaction against Muslim madmen of the Middle Ages."
Donohue referred to a quote from Princeton scholar and Islamic expert Bernard Lewis, who said: "At the present time, the Crusades are often depicted as an early expansionist imperialism — a prefigurement of the modern European countries. To people of the time, both Muslim and Christian, they were no such thing."
Lewis added: "The Crusade was a delayed response to the jihad, the holy war for Islam, and its purpose was to recover by war what had been lost by war — to free the holy places of Christendom and open them once again, without impediment, to Christian pilgrimage."
The Washington Post also picked up on Obama's reference to the Crusade, and said that Obama has argued on several speeches concerning ISIS that Islam should not be blamed for the actions of the jihadists.
"His comments on the Crusades and the Inquisition represent the latest ratcheting up in his quest to change how people talk about terrorism," WP said. "He views Islamist terrorists as exploiting their religion; his opponents believe there is something about Islam that creates fanatics who are willing to carry out terrorist attacks."
Obama has argued in the past: "No religion condones the killing of innocents, and the vast majority of [ISIS'] victims have been Muslim."
The president spoke on a number of faith-related topics at the annual prayer breakfast, and said that all faiths have been distorted for evil purposes.
"We see faith driving us to do right, but we also see faith twisted and distorted, used as a wedge, or worse, sometimes used as a weapon," Obama said.
He suggested, however, that believers need to have humility and turn to God: "Our job is not to ask that God respond to our notion of truth. Our job is to be true to Him and His Word and His Commandments. We should assume humbly that we are confused and don't always know what we're doing, and we're staggering and stumbling toward Him and have some humility in that process."