Catholic Students to Congress: Stand With Pope Francis on Climate Change, Immigration Reform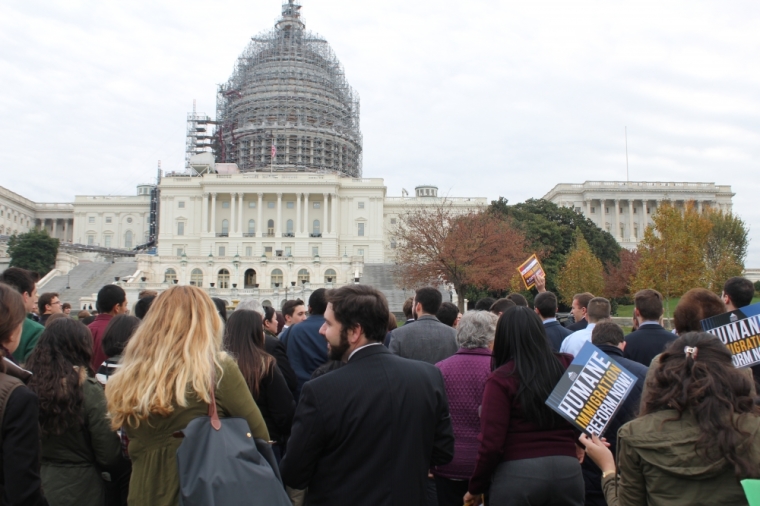 WASHINGTON — Hundreds of Catholic students from across the United States met Monday with members of Congress and urged them to stand with Pope Francis on climate change, immigration reform, and human rights in Central America.
An estimated 1,200 concerned individuals, mostly college and high school students representing 90 Catholic institutions from 25 states, Canada, El Salvador and Mexico, gathered in Washington D.C. over the weekend for the annual Ignatian Family Teach-In for Justice conference.
To cap off the weekend-long conference, the liberal-leaning Ignatian Solidarity Network hosted a day of advocacy on Capitol Hill Monday morning, which marked the largest Catholic advocacy day of the year.
Activists began by rallying on the West Lawn of the Capitol to call on legislators to take action on the nation's social and moral issues that were raised by Pope Francis during his address to a joint session of Congress on Sept. 24.
Following the rally, the students were given the opportunity to meet with respective lawmakers to discuss their personal concerns with U.S. policy on Central America, immigration, criminal justice, and climate change.
"Pope Francis was just here six weeks ago and he was up on that balcony right up there … and he spoke to all the folks gathered right here, encouraging them to be involved for the betterment of our nation," Sr. Simone Campbell, the executive director of the NETWORK Catholic advocacy organization, told the Catholic students. "Faith through justice takes care of our Earth, takes care of our people, takes care of our politics. So you all, use this moment to build bridges and transform our nation and give people hope."
With about a quarter of Congress members getting the chance to discuss the activists' concerns, students called on members of the Republican-led Senate to embrace Pope Francis's encyclical on climate change, "Laudato Si." They encouraged legislators to view the issue of environmental justice through the lens of "Laudato Si" and embrace clean energy.
"Aside from being based on the Catholic faith, 'Laudato Si' becomes a moral document. It is bipartisan because everyone can agree on morals," Tom Schulte, a student from Saint Louis University in St. Louis, Missouri, told The Christian Post. "All of our meetings are with people who are Republicans. So, most of them, especially the ones in Missouri, do not support clean energy as much because their economies are driven on non-renewable energy. I am excited to see what they have to say about it, and see where their constituencies are coming from, and they will be able to see our points of view and acknowledge them."
Additionally, students lobbied for Congress to provide funding to the Green Climate Fund and called for comprehensive action to be taken at the 2015 United Nations Climate Change Conference, which will be held from Nov. 30 to Dec. 11.