'Catholic Warrior' Who Destroyed Satanic Display in Florida Pleads for Help in War Against Lucifer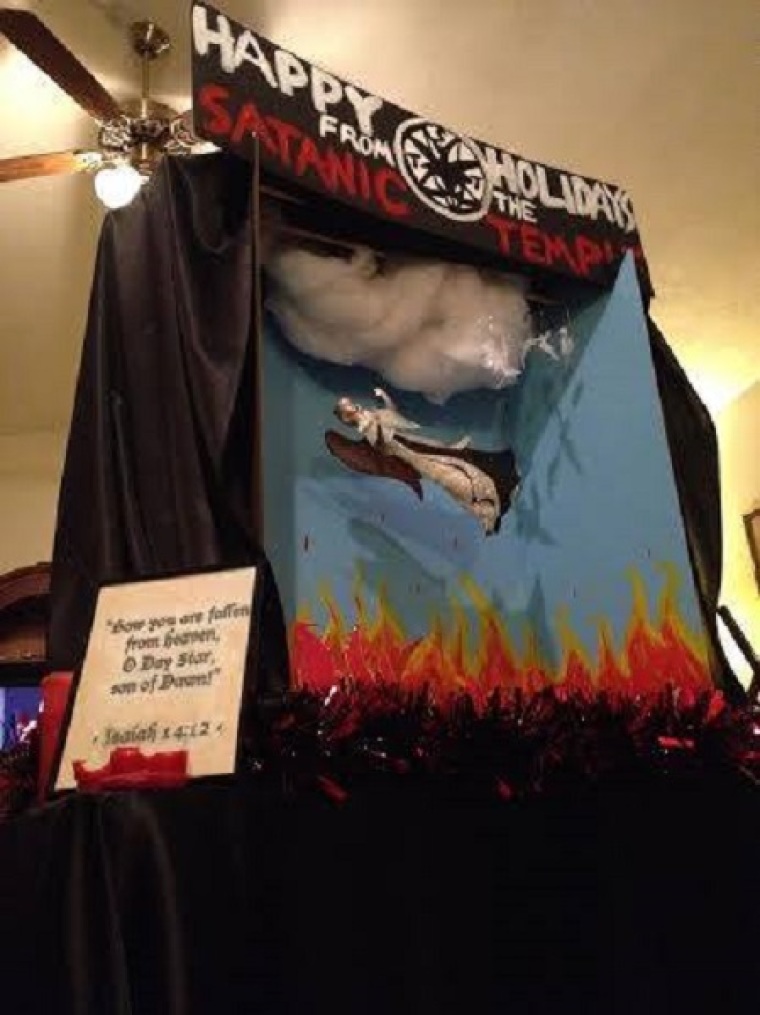 A self-described "Catholic Warrior" who recently vandalized a Florida government building's Satanic holiday display has launched an online fundraising effort to continue her crusade.
Susan Hemeryck, who last December attacked a Satanic display in the Tallahassee capitol building, created a page on the website gofundme.com.
Titled "Stand Against Satan," the page calls for help in stopping the Satanic Temple from committing "retaliation" for Hemeryck's actions last Christmas season.
"The charges against me were dropped, but the satanists are threatening retaliation for next Christmas, and they are also moving forward with their agenda to entrench Satan in America's government halls and in our public schools," reads the page.
"This is a hate group, whose actions can be compared to the Nazis displaying a swastika at Hanukkah, or the KKK erecting a burning cross on Martin Luther King Day."
Hemeryck wrote that she lost her home and her job "because I took a stand against this evil, and I need a little help with personal living expenses."
"I also have a wonderful attorney, Michael Bauer, who has stood by me through all of this, and we need your help in taking the next step in our efforts to legally keep Satan out of our Capitols and out of our schools," continued Hemeryck.
"Won't you please help us to stand firm and hold the line against Satan? By the grace of God, and with your prayers and support, let's cast Satan out of America and back where he belongs!"
During the 2014 Christmas season, Tallahassee officials agreed to include a display at their capitol building donated by the Satanic Temple.
The Temple had requested to have a display in 2013, which would have placed it alongside a manger scene and an atheist "Church of the Flying Spagetti Monster" display.
While in 2013 officials rejected the Temple's display as being "grossly offensive," legal actions prompted them to change course in 2014.
After the Satanic display was erected, Hemeryck attacked it while wearing a T-shirt with the title "Catholic Warrior."
Hemeryck was arrested for criminal mischief and released sans bail and later that month apologized for her actions, saying she felt obligated to remove the display.
In late March, charges against Hemeryck were dropped when prosecutors were unable to note what significant damage was done to the display.
"I am very grateful to God for giving me the grace to take a stand against Satan and those who invoke his name even if they do not fully know what they are doing," stated Hemeryck in March."I wanted the jury to know that I did not act criminally as wrongly portrayed, but as a devout Catholic following the Church's teaching for non-violent and peaceful opposition of evil."
Created on April 27, Hemeryck's "Stand Against Satan" page has as of Thursday raised more than $3,000 from over 50 people.