Catholics Worship at Tree Weeping Miraculous Liquid; But Experts Say 'Tears' Are Just Bug Poop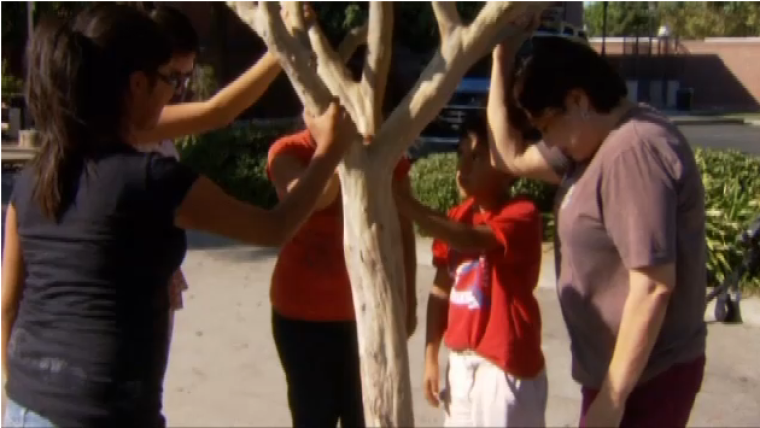 A growing number of Catholics have been flocking to the St. John's Cathedral in Fresno, Calif., to worship under a Crape Myrtle tree said to be weeping a miraculous healing liquid from God, but scientists say those "tears" are just a steady stream of bug poop.
Despite what the scientists say, however, the faithful maintain the liquid is a touch from God for believers.
"They can say it's this theory, that theory, the tree does this every year, it's odd when it happens when there is bunch of people praying. When you are asking the Holy Spirit to reveal itself and then it happens all of a sudden and it's still here," said Janine Esquivel-Oji told My Fox Philly.
"When you say 'glory be to God in Jesus' name' the tree starts throwing out more water," explained Maria Ybarra to KGPE-TV.
Ybarra was the first person to experience the miracle of the droplets coming from the tree while she was praying with a sick woman under it. The tree released water unto the sick woman and she said she felt better.
"Then she said 'oh my gosh, I hadn't feel good, and then when the water was hitting me it changed me I feel peace.' I said the Lord be with you. The Lord said peace be with you, peace I give you, " Ybarra told My Fox Philly.
"I said my prayer and asked the Lord to give me a miracle cause I'm really, really sick," Rosemarie Navarro told KGPE.
A number of the faithful flocking to the tree even brought their children along to see the miracle in motion.
"I'm like let's go, you guys can take a look for yourselves and then you can decide. When you get there you can decide if it was a tree that got wet," Jenny Estevez noted to My Fox Philly.
Entomologist Richard Covelo, however, explained that the tears coming from the tree are simply honey dew – "a sweet liquid emitted from the anus of aphids and some other sap sucking bugs" according to an online definition.
"Crape Myrtle trees as a generality can get really high populations of Crape Myrtle aphids and at times it can look so bad that it looks like the tree is raining out of it with all the honey dew dripping down," said Covelo.
Ybarra, however, maintains that the liquid isn't coming for the bugs' anus.
"I know it's coming from God, and ye of little faith will not reach the kingdom of God," she said.