CBS' New Comedy Show 'Angel from Hell' Mocks Christianity, Pro-Family Group Complains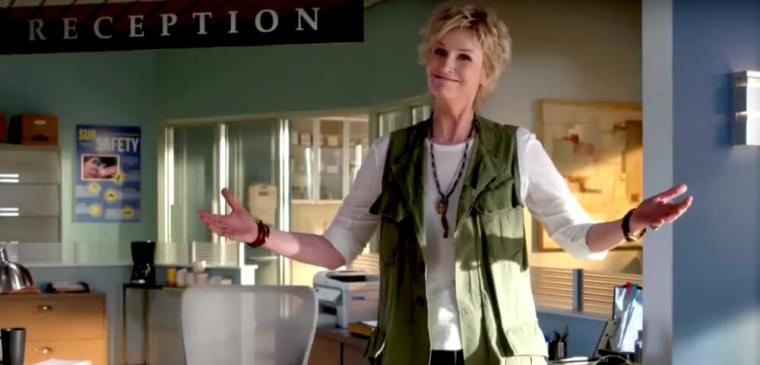 One Million Moms, a nonprofit family-interest group, has managed to convince the manufacturer Sleep Number to stop funding CBS' new comedy series, "Angel from Hell," starring Jane Lynch, which, it says, disrespects Christianity.
"The previews alone can make believers sick to their stomachs with the blasphemous content including crude humor, foul language and distasteful dialogue," says an alert posted on the website of One Million Moms, an organization founded by the American Family Association.
The series, which premiered Jan. 7, airs on Thursday evenings. The show is about an angel named Amy, who acts as a guardian for Allison, forming an unlikely friendship. It focuses on "a holier-than-thou character who is anything but that," the family interest group says.
"The network also cast children in scenes that are extremely inappropriate, such as the angel using foul language in front of them and then joking that she never promised to be G-rated," the group adds. "The premiere also included the angel hiding liquor in the children's clothes and saying, 'My booze!' followed by a little boy saying, 'That's so cool!' Almost every scene included the angel drinking alcohol from a flask, even on Sunday, and once at a bar. Not to mention the angel rides on a wrecking ball while busting up a concrete angel statue."
Networks like CBS portray a false image of religion "once again," the group says, calling the show "another attempt to distort the truth about people's faith."
As a result of the alert, Sleep Number is pulling its sponsorship of "Angel From Hell" immediately, the group's website says. "Thanks for your feedback. We've contacted our Marketing team and confirmed we're not planning on running any additional ads with this program at this time," Sleep Number wrote on its Facebook page.
The Media Research Center agrees with One Million Moms' criticism.
"This is just the latest volley in Hollywood's war against faith," Dan Gainor, VP of business and culture for MRC, tells Fox411. "Rather than simply deny the divine, 'Angel From Hell' seeks to denigrate it. They picked 'Glee' veteran Jane Lynch, who hates conservatives, to portray a disgustingly foul and perverted 'angel.'"
He compared CBS' show with the FOX television series called "Lucifer." "With the arrival of the show 'Lucifer,' where the devil is portrayed as suave good guy, this is just the Left Coast's latest attack on religious faith," Gainor says.
In "Angle from Hell," Amy is portrayed as a mysterious and eccentric individual who reveals herself to be an angel. She has a crazy persona and can make unbelievable predictions that come true. It is suggested that Amy has been watching Allison since childhood. Allison is a dermatologist who likes to multi-task and is a perfectionist. She thinks that Amy is nuts, until she discovers that Amy knows everything about her and starts believing her crazy predictions.