Chad Veach urges students to anchor hope in Christ; avoid 'temporary fix' in social media, substance abuse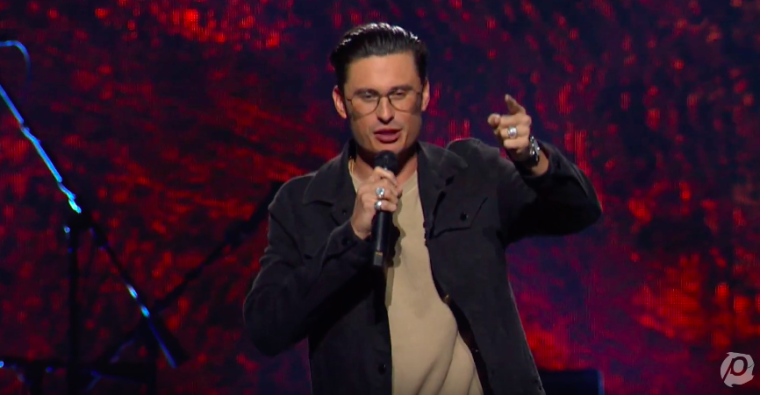 Chad Veach encouraged thousands of millennials gathered at the Passion Conference to anchor themselves in Christ in a society that tries to "shake and shatter" hope instead of finding a "temporary fix" in substance abuse and social media.
In his message titled "The Place I Crave," Veach, pastor of Zoe Church in Los Angeles, California, asserted that "whatever you run to in times of trouble is what you trust."
"You got to learn that being a believer is about running to the right thing and running from the wrong thing," he charged. "All throughout the Scriptures it says that we should flee temptation. We should abhor what is evil. We should run away from that which will destroy our life. We run from evil, we run away from bad things, and we run to God."
"When I choose in the midst of my circumstance to run to God, what I am saying to God is, 'God, I trust you," he continued. "I do not trust in this substance. I do not trust in this bottle. I do not trust in this person. I will not get my fix from social media. I don't trust these things. I trust God. I cannot get temporary fixes for what I need, everlasting solution. Only God can fill me. Only God can heal me. Only God can complete me. No boyfriend or girlfriend, no amount of success.'"
Veach, formerly on staff at Judah Smith's The City Church in Seattle, Washington, affirmed that God calls His children to "hide" in His faithfulness: "God will not abandon you," he said. "God will not betray you. God will not turn his back on you ... God's good with my heart. Others can hurt my heart. God is faithful."
"Faithfulness is who He is, and faithfulness is what He does," he added. "We serve a faithful God."
In a broken and battered world, "everything we need" for healing and restoration can be found in God's presence, the pastor contended.
"When I get into His presence, all of a sudden I've got a new found strength," he explained. "When I came in, I felt depleted and I felt exhausted, and I felt tired and I felt overwhelmed. I get with God and ... I feel the comfort of the Holy Spirit."
God also gives His children an "unshakeable hope," Veach said, explaining that "hope has a swagger and arrogance and a confidence not in self, but in God."
"Remember in your life, hope is an architect, but faith is the builder," he charged. "God will give you hope for your future. He'll give you a hope for tomorrow. He'll paint a picture in your heart."
The pastor acknowledged that many in the audience have experienced circumstances and situations that have tried to "shatter and shake" their hope. He shared how, in 2012, he and his wife learned that their oldest child, Georgia, had been born with a rare brain abnormality that would prohibit her from ever being able to walk or talk.
"I was heartbroken," he admitted, "but I was filled with hope. I could see the tears in my wife's eyes. I could look at the hopelessness in my daughter's face. But something about God rose up on the inside and I found myself in that season, as a father, craving the presence of God, hiding in His faithfulness, telling God, 'I'm not strong enough as a dad,' I need your comfort."
In that difficult time, God gave him "unshakeable hope," the pastor said. Today, while Georgia has endured a number of medical procedures, she's "defied the doctors" by living past her expected lifespan.
"I think we should just pause and applaud our God who is the great physician and always has the final last word," Veach declared. "Don't put your hope in your circumstance. Don't put your hope into other people. Put your hope in the name of the Lord."
The Unreasonable Hope author concluded his message by reminding attendees that God wants to "anchor" His children in His love.
"God is up to something in your life, and what He's really after is anchoring you in the love of Jesus Christ," he said. "Jesus wants your anchors to be dropped so you are not tossed to and fro by every situation, by everything that you feel and everything that you see."
"We need to be people that love Jesus," he added. "I will not get uprooted. I will not be uplifted by any circumstance."
The Passion 2019 conference, geared toward 18-25-year-olds, was held across four locations in Atlanta, Washington D.C., and Dallas from Jan. 2-4. In addition to Veach, speakers included Christine Caine, Matt Chandler and Louie Giglio.
"Passion exists to see a generation leverage their lives for what matters most ... to live in such a way that their journey on earth counts for what is most important in the end," states the event website. "For us at Passion, that's the fame of the One who rescues and restores, and the privilege we have to amplify His name in everything we do."
"While we host large gatherings, Passion is more than a conference. More than an event. More than a feeling. Passion is you and me saying goodbye to lesser things and saying yes to Jesus, the One whose name is above every name."