Charles Stanley Names Successor but Will Remain Sr. Pastor, Says Retirement Is Unbiblical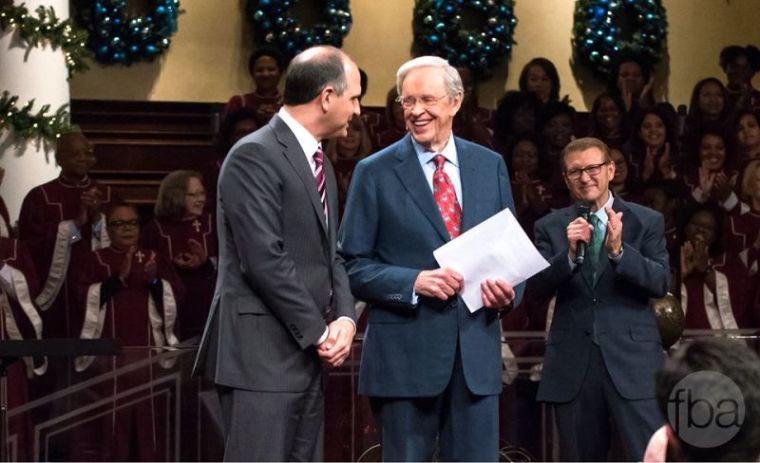 Charles F. Stanley, the iconic Southern Baptist televangelist who has led the 13,000-member First Baptist Church Atlanta in Georgia for more than 40 years and founded In Touch Ministries, named Dr. Anthony George as his successor Sunday. But he plans to remain at the helm of the church as long as God gives him "health and strength."
George, who has served as Stanley's associate pastor since 2012, was named in a pastoral succession plan presented to congregants during two morning services.
"While I intend to remain the pastor as long as God gives me health and strength, this plan will be officially in place to ensure a seamless transition in leadership whenever God ordains that to occur," the 85-year-old Stanley said in a statement on the church's Facebook page.
That means, said Shane Baker, director of executive communications at First Baptist Church Atlanta, that if Stanley makes it to 95 or older and remains healthy he will remain as the church's senior pastor.
"Dr. Stanley does not believe in retirement, he will tell you that retirement is not in the Bible and he has no aspirations to retire. He does not think that it is biblical," Baker told The Christian Post Tuesday.
When asked if this means Stanley's succession plan won't be affected unless he dies or is seriously incapacitated, Baker said that will be determined by God.
As of Tuesday, there were no immediate concerns about that because Stanley "is in great health," Baker said.
The announcement comes as other longtime leaders, such as Pastor Dick Bernal of Jubilee Christian Center in San Jose, California, who will be replaced by Ron Carpenter Jr. of Redemption Church, have outlined even more concrete plans to retire from ministry.
Carpenter, 49, announced he was stepping down as pastor of the Greenville campus of Redemption Church to take over Bernal's Jubilee Christian Center on Sunday and said he doesn't believe pastors can continue to effectively minister beyond the age of 70.
"I've seen pastors, I've been around church my whole life. I've seen 'em lead aggressively, passionately, with relevance and creativity into their late 60s. However, I personally have never seen anybody be able to continue that type of leadership into their 70s. Not saying it hasn't been done, just saying I haven't seen it," Carpenter said.
Baker said at 85, however, Stanley continues to be effective with a solid team around him.
"I'm not sure about other pastors but we certainly don't have any concerns about Dr. Stanley. Dr. Stanley has been highly effective. His television and radio broadcast ministry is in over 2,800 different television, radio stations across the world and I think over 180 countries so his ministry is extremely effective," he said. "Dr. Stanley, he is in great health, still preaching solid and we look for him to be that way for some more years."
It was further noted that Stanley hired George in 2012 to run the day-to-day administrative responsibilities of the church. He also preaches on Sunday when Stanley has other responsibilities or needs a break.
Stanley became senior pastor of First Baptist Church Atlanta in 1971 after a hard fought battle for the position, according to CNN.
His son, Andy Stanley, was once his father's heir apparent but later founded his own church and is currently senior pastor of the multi-campus North Point Community Church in Georgia, one of the largest churches in the country.
The elder Stanley met another hurdle when the veteran preacher's wife, Anna, officially divorced him after 40 years of marriage in 2000, saying she experienced "many years of discouraging disappointments and marital conflict. ... Charles, in effect, abandoned our marriage. He chose his priorities, and I have not been one of them." 
While many in the Southern Baptist Convention called on him to step down over his divorce, Stanley refused to give up his role as senior pastor.
"God said you keep doing what I called you to until I tell you to do something else," he told CNN. "I got that straight from the Lord. ... I was simply obeying God."
He added: "If somebody doesn't love you and doesn't want to live with you, you can't — nowhere in the Scripture does it say that you're to preach the gospel until someone does this or that."
Stanley revealed in a 2016 interview that he still prayed on his knees. He recalled that he asked God to help him through his divorce.
"I would say to anybody: the greatest lesson you can learn is to learn to live by faith on your face before God. You can face anything, no matter what it is. He said, 'I'll never leave you or forsake you,' but if I'm so busy I'm not listening to him, I'm not waiting for him, I'm not expecting him to do something — I think people face a lot of circumstances and go through a lot of heartache and trouble that would be unnecessary if they would just stop and listen," Stanley stated.