'Trust God all the way': Chicago pastor who lived in a tent for 345 days to raise $28.5M delivers mighty message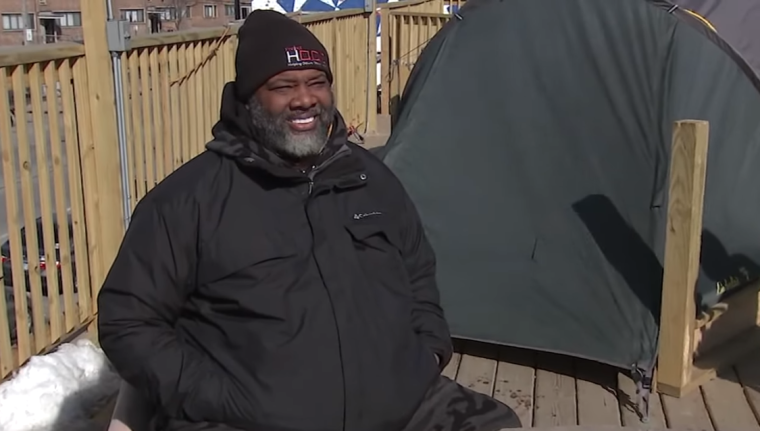 "Be committed. … Trust God all the way." Those are two powerful lessons Pastor Corey Brooks learned while camping out 345 days in a tent atop a frigid roof on Chicago's South Side.
READ ALSO: 'It Was Just Crazy': Hero Teen Jumps Into Action to Save Trapped Elderly Man, Dog After Jeep Falls Through Icy Pond
The preacher, who has been on a mission to raise $35 million to build a transformational community center in the heart of Chicago, refused to give up on what he believes God laid on his heart; he remained on the roof and raised money throughout the experience.
"There are times when you just want to give up and throw in the towel, but when you are convinced that God is giving you a vision to do something, you gotta be convinced that He'll also give you the provisions," Brooks told the "Edifi With Billy Hallowell Podcast." "And so, I have learned that God, if He gives you a vision, He will give you the provisions."
Brooks, who runs Project H.O.O.D., an organization seeking to empower and equip individuals and families, has already raised $28.5 million of his goal. Listen to him tell the powerful story:
The faith leader has affectionately become known as the "rooftop pastor" for his decision to camp out until he got close to his $35 million goal, using the effort to bring attention to the cause. He came down from the roof last October.
"Our goal has been to build a center on the South Side of Chicago, where it's in a block called O Block," Brooks said. "It's named after a young man named Odee Perry, who was shot and killed, and the gangs took the name the O and started calling it O Block."
The preacher described the area as "one of the most violent blocks in all of the country," and said he and his organization set out to do something about it. Brooks' central goal is to turn O Block into "Opportunity Block," and he hopes to accomplish this through the massive community center.
Brooks shared some of the dire statistics and scenarios plaguing Chicago, citing issues with violence and pockets of poverty. Mixed with low education levels in his neighborhood and poor reading and math proficiency, he said violence and problems often plague kids' lives at an early age.
"It becomes imperative that we have churches and organizations like ours to intervene, to make sure that these neighborhoods do not continue down a vicious cycle of violence," Brooks said.
"But that's happening not just in Chicago, but we see it happening in a lot of places across America this year alone."
READ ALSO: North Korean Defector Yeonmi Park's Dark Warning For America, Quest to Save Nation: Livelihoods, Dignity 'Are Under Attack'
The new community center will target these problems head-on, with a trade school, entrepreneurial school, health and wellness facility, computer technology center, media and arts center, pool, restaurants, theater, basketball courts, a trauma counseling center, and so much more.
"Our goal is to raise $35 million. That's what the center costs," Brooks said. "At this present time, we've raised $28.5 million, and we're really excited about it."
Brooks braved the cold temperatures and loneliness, separating himself from his home, church community, and loved ones for 345 days, persevering on the roof to bring in every cent.
He was candid when asked what kept him going on the roof for so long.
"My commitment, first of all, [is] to God," Brooks said. "God gave me a vision and I wanted to … bring it to fruition. I wanted to do everything that I could possibly do within my power … to do my part, to make it work."
Beyond that, Brooks said he committed to his community and truly hopes to see it completely transformed by this center. These oaths, he said, helped him to remain focused and faithful as he continued doing interviews from the roof and raising awareness.
"I want the young people in our neighborhood to have an opportunity to live the American dream," he said. "I just focused on God, I focused on the community, I focused on these kids and what they need in order to make it in this life."
Brooks said he's filled with joy over the massive reaction and support for the center from all over America.
"I'm very grateful. I'm very appreciative for what God has done," he said. "I'm glad that God placed me in this neighborhood that I'm in."
People interested in learning more or contributing can visit Brooks' Project H.O.O.D. website.
This article originally appeared on CBN's Faithwire.