Chicago Public Schools Expand Sex Ed to Include Kindergarteners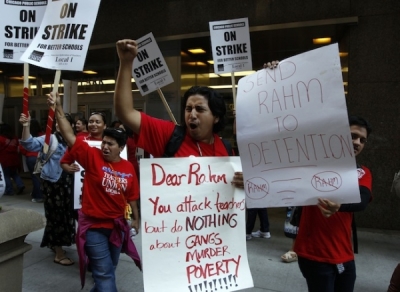 The Chicago Board of Education approved a new policy that will expand sex education to all grade levels in the Chicago public schools (CPS), including kindergarten, and will, for the first time, teach sexual orientation and gender identification.
Chicago has the third-largest public school system in the United States, and according to WGN-TV, more than 50 percent of all CPS students polled report they have engaged in sexual activity.
Since 2000, HIV diagnoses for Chicago students ages 15 to 19 has increase by more than 40 percent; and among all Illinois cities and counties, Cook County ranks highest in confirmed cases of gonorrhea and syphilis.
Dr. Stephanie Whyte, the chief health officer for CPS, told WGN-TV the proposed sex education curriculum is a response, in part, to President Obama's HIV/AIDS strategy and Mayor Rahm Emanuel's Healthy Chicago Initiative.
Under the new mandate, kindergarten and first-grade students will learn about anatomy and personal safety, specifically how to distinguish between appropriate and inappropriate touch.
The second and third-grade curriculum will focus on growth and development.
At the fourth-grade level, students will study the physical, social and emotional aspects of puberty, as well as the causes of HIV transmission.
Finally, firth-grade students will learn about human reproduction, contraception and bullying.
The CPS program makes Chicago the largest school district to require a set number of sex-education instructional minutes and a specific curriculum for each grade.
Barbara Byrd-Bennett, the CEO of Chicago Public Schools, spoke in favor of the program during the Feb. 27 school board meeting.
"It is important that we provide students of all ages with accurate and appropriate information, so that they can make healthy choices," said Bennett during the public hearing.
Peter Sprigg, senior fellow for policy studies at the Family Research Council in Washington, D.C., told The Christian Post there's no need to introduce "sex education" to children until they start puberty.
"The idea that it should be introduced earlier is part of the legacy of Alfred Kinsey, and the belief that 'children are sexual from birth,'" Sprigg said. "This is a false and pernicious idea that introduces words, thoughts, and concepts to children long before it is developmentally appropriate for them. This premature exposure may contribute to early sexual activity, when we should be working to prevent it."
In Sprigg's opinion, sex as a topic that shouldn't be introduced before puberty, and should be taught as a behavior reserved for marriage.
"The assumption that adolescents will inevitably have sex before marriage is also harmful," he said.
In regard to the introduction of gender identity and sexual orientation being taught to students from ages 5 to 10, Sprigg believes the controversial issue should be discussed at home, not in the public school system.
"When they are introduced in school curricula, it is nearly inevitable that it will be done with a political agenda in mind, with the goal of forcing acceptance of homosexual and transgender behaviors, often in conflict with parental and community standards," Sprigg said. "Yet truly useful information about sexual orientation – such as the dramatically higher rates of sexually transmitted disease among men who have sex with men – is usually not included."
Sprigg agrees that the earliest stages of sex education should deal with the physical changes associated with puberty and the facts about biological reproduction. He also believes that older students should be educated on the risks involved with engaging in sexual activity before marriage.
"At older ages, young people should be taught the potential harms of early sexual activity, including the risks of pregnancy and STDs," he added. "Schools should take a risk elimination approach (as with alcohol and drugs), by telling students to abstain from sex until marriage – not a 'risk reduction' approach, which misleads students into believing a condom is all they need to make sex 'safe.'"
Likewise, Sprigg suggests that relationship education can also provide students with the skills they need to be able to say "no" to sexual activity.
The school district states that abstinence education will be "taught as the expected norm," according to WGN-TV.
Parents would have the right to opt out students from the CPS's sex-education program, which is scheduled to go into effect in 2016.