Chicago Sinkhole Swallows Up Tree, Homes Flooded With 2 Feet of Water
A Chicago sinkhole has hit a South Side neighborhood at 124th Street and Wentworth on Saturday, sparking widespread concern among locals as it continues to expand. The shocking sinkhole was reportedly caused by a broken water main, and the hole has progressively gotten larger, according to the city's Water Department. Officials have now moved into the area, shutting off water to locals, and will try and fix the hole.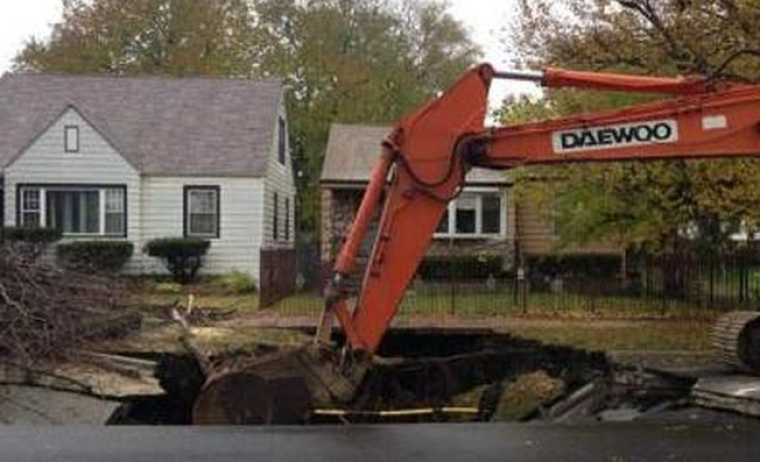 The sinkhole has grown to about 20 feet by 80 feet after initially starting off as a small hole. However, the leaking water seemed to have washed away the supporting structure under the road and has resulted in an increasing amount being eaten away.
Flooding has been caused in a handful of homes, with some suffering up to two feet in their basement.
The sinkhole dramatically swallowed up a tree, and the hole has been extremely difficult for repair crews to deal with, according to officials.
Dep. Comm. Bill Bresnahan, Chicago Water Department has said, "Depending on what's underneath it, we're hoping by the end of the week we should have the street repaired.
"We will have water on to these people before we leave here, hopefully by the end of the day."
Just earlier this year in April a sinkhole swallowed up three cars in Chicago.
Also throughout this year there have been regular reports of sinkholes in the Florida area, with one of the most dramatic swallowing up a Disney World resort.