Chick-fil-A 'Kiss In' Fails to Inspire on Same Level as 'Chick-fil-A Appreciation Day'
The "Kiss Off" organized by gay activists to protest against Chick-fil-A has passed relatively quietly on Friday, and was significantly smaller than Wednesday's "Chick-fil-A Appreciation Day," according to various reports.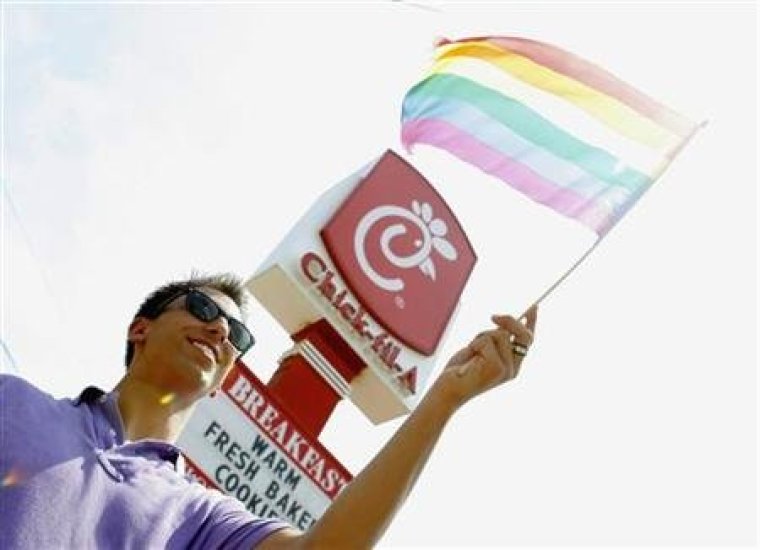 Wednesday's "Appreciation Day" reportedly brought hundreds of thousands out to Chick-fil-A restaurants, but Friday's counter protest was a much more muted affair. Many eye witness reports from customers claimed seeing just a handful of "Kiss Off" protesters.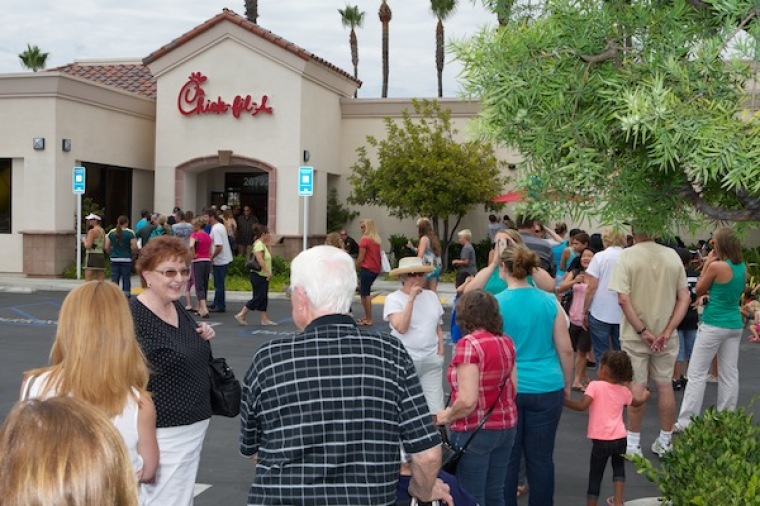 Gay activists had tried to organize their own mass gathering consisting of homosexual couples meeting at Chick-fil-A's across the country to kiss in the family fast food restaurant. The action was organized as a protest against comments made by the company's president, Dan Cathy, who had explained his personal faith dictated his belief in the biblical definition of marriage.
The wave of fierce backlash against Chick-fil-A sparked a campaign organized by former Arkansas Gov. and Fox News analyst Mike Huckabee to support Chick-fil-A and Cathy's right to freedom of speech. Hundreds of thousands turned out on Wednesday for the so-called "Chick-fil-A Appreciation Day," with queues at some restaurants more than an hour-long for much of the day. By evening many Chick-fil-A restaurants had reported being sold out of just about everything on their menu, forcing them to ask customers to come back another day.
"It's gone beyond anything I could have imagined," Huckabee told Fox News. "Every one of [the stores] that I know have reported record, historic sales yesterday. ... A lot of the stores ran out of chicken before the end of the day."
However, Friday's event seemingly failed to inspire a reaction on the same level. Despite some photos of gay couples kissing at restaurants being posted on social media sites and being sent to various gay rights websites, the protest consisted of significantly fewer people than Wednesday's event.
At one Chick-fil-A in Torrance vandals desecrated the side wall of the restaurant on Thursday night, painting the words, "Tastes Like Hate." However, come Friday morning a steady stream of customers were reportedly coming in and out of the restaurant with ease without any signs of major protest. There was in fact a small group of protesters holding signs reading "Jesus is the only answer," according to the LA Times.
"It's a civil debate; it has nothing to do with defacing someone's property," said Alfonzo Rachel, 40, a Torrance resident who said he dines at the restaurant regularly, according to the LA Times.
Torrance police detectives are conducting an investigation into the vandalism. Sgt. Jennifer Uyeda told the LA Times, "There are no leads at this time. There are security cameras outside the building and we're trying to retrieve [video from] those right now."
Elsewhere entertainment website TMZ reported that police were called to a Chick-fil-A in Hollywood on Friday by store employees, but not because they were concerned about the same-sex "kiss-in" demonstration. Rather they requested police intervention for the aggressive behavior of media personnel who had turned up to cover what they probably expected to be a much larger protest. According to the report members of the media were verbally accosting staff at Hollywood's Chick-fil-A for their reactions to the protest.
Former Arkansas Gov. Mike Huckabee, who spearheaded Wednesday's "Chick-fil-A Appreciation Day," had said prior to the event that he had no problem with it: "[... if they believe that will help their cause, to put people of the same sex kissing each other in a public place in front of families, if they believe that will encourage people to be more sympathetic, then, you know, more power to them."
"In America, I believe people have a right to do things that I might not agree with. What I don't want to do is shut down the voices of Christians because they don't like those voices."