China's communist regime is detaining Christians in mobile brainwashing camps: report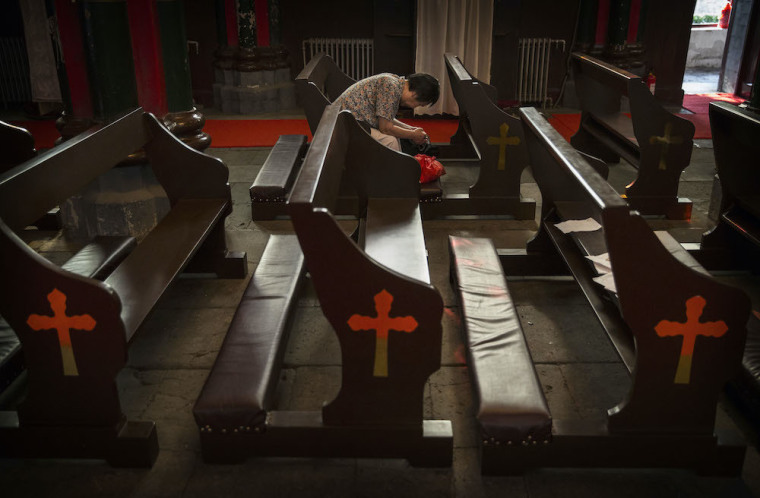 Christians in at least one province of China are being held in secretive, mobile brainwashing camps to pressure them to renounce their faith which appears to be part of a planned clampdown on illegal social organizations, including house churches, according to reports.
A Christian in the southwestern province of Sichuan, who was held captive for 10 months "in some basement somewhere" in a windowless camp run by the ruling Chinese Communist Party, shared his experience.
"It was a mobile facility that could just set up in some basement somewhere," the Christian, indemnified with a pseudonym, Li Yuese, told Radio Free Asia.
He continued, "It was staffed by people from several different government departments. It had its own (CCP) political and legal affairs committee working group, and they mainly target Christians who are members of house churches."
China has more than 60 million Christians, at least half of whom worship in unregistered or so-called "illegal" underground churches.
Such facilities appear to be part of the CCP's United Front Work Department and the state security police.
Those caught taking part in church-related activities and are released on bail by courts end up in such camps for what the CCP describes as "transformation," Li said.
Li's church was raided by communist authorities in 2018. He was subsequently beaten, verbally abused and "mentally tortured," which led him to start self-harming, including throwing himself against a wall.
"They use really underhand methods," Li explained. "They threaten, insult and intimidate you. These were United Front officials, men, women, sometimes unidentified, usually in plain clothes. The police turn a blind eye to this. You have to accept the statement they prepare for you. If you refuse, you will be seen as having a bad attitude and they will keep you in detention and keep on beating you."
He added, "They were using brainwashing methods on those of us who were on bail from the detention center."
Li's experience was similar to that of inmates of camps in the northwestern region of Xinjiang, RFA noted.
Another Christian who was not named for security reasons was quoted as saying that such facilities are being used for brainwashing across China, for Protestants, the underground Catholic Church and the banned Falun Gong spiritual movement.
The U.S.-based persecution watchdog International Christian Concern has noted that China's Ministry of Civil Affairs plans to launch a campaign to toughen its clampdown on illegal social organizations, including those that hold gatherings "in the name of religion."
The Department of Civil Affairs in Sichuan published a list of "Illegal Social Organizations" on March 25, which included the names of Buddhist and Christian groups, including the heavily persecuted house church Early Rain Covenant Church.
Gina Goh, ICC's regional manager for Southeast Asia, previously said that at a time when religion in China has to submit itself to the control of the Chinese Communist Party and President Xi Jinping, it's "no longer a surprise that a house church is seen as an enemy of the state and clamped down upon."
"China's blindness to its violation of religious freedom needs to be continuously exposed so that Beijing knows it cannot get away with performing these evil acts," Goh said. 
According to a November 2020 report from the Pew Research Center, restrictions on religion in China have risen to a record level. Researchers found that China continues to have "the highest score on the Government Restrictions Index out of all 198 countries and territories in the study."