China Doctor Sold Newborns After Telling Families Their Baby Had Died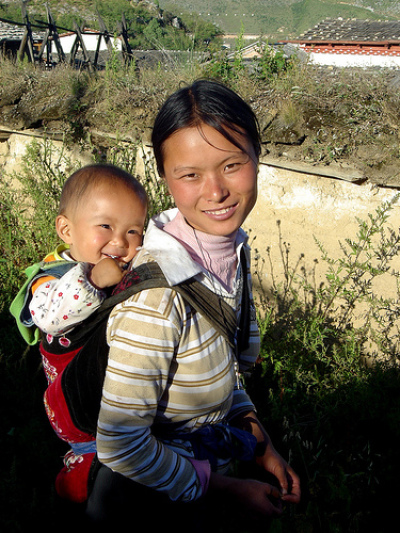 Dozens of newborns in China have been sold and trafficked after a doctor lied to their parents, telling them their babies were gravely ill, dead or were inflicted by some other medical condition, according to authorities.
Chinese police have put a Shaanxi province-based obstetrician at the center of the allegations, claiming that parents were told anything to convince them their children were either dead or in a condition whereby they were advised to abandon them. However, unbeknownst to the parents the information fed to them were lies, and their children were later sold and trafficked in the shocking case.
In a Los Angeles Times article, Zhang explained to Dong Genlao, a 24-year-old father that his eight pound baby had a severe genital deformity that would leave his family humiliated.
"He is not completely male, but not female. It will bring shame on the family. Don't worry," Dong quoted Zhang as advising him. "Auntie can help you."
Zhang, or "Auntie" her colloquial and familiar title, suggested that Dong and his wife "give up" or abandon the baby. While Dong ultimately complied, he had no way of knowing that Zhang would be charged seven years later with close to 30 baby thefts, and that the hospital where his child was born, would be accused of as many as 55.
Zhang's actions first began to be uncovered after a couple whose child, who Zhang claimed was born with syphilis and hepatitis B, showed no signs of the disease. After the couple contacted police, authorities found the child 300 miles away in Henan province where a family had bought the child from traffickers for nearly $10,000. The press reported Zhang herself had made $3,500.
Although Zhang, who followed in her mother's footsteps as an obstetrician , worked in a county with roughly 800,000 residents, many of those she worked with were friends and family. Zhang purportedly specifically manipulated grandparents who would find her arguments to abandon the children, painful but justifiable. Zhang rarely consulted the child's mother and in the event that a child had "died" had no qualms about charging the family $10 to dispose of the bodies.
Yet to most of her clients, she presented herself as capable and thoughtful medical professional.
"She seemed like a very warm person. Tall, strong, smart, but down to earth," he said. "We absolutely trusted her and she tricked us."
The issue of children is a complex one in China; the one child policy has been in place since 1979, and has been blamed for forced abortions and child abandonment in the country - though its implementation is not uniform across the country and varies both in urban and rural contexts, and for those who are ethnic minorities. At the same time, abandonment of children, especially female babies or those with medical handicaps is also common.
In June of this year, World Magazine reported that China no longer allowed individuals or groups to adopt abandoned babies, most likely in response to child traffickers. This was part of a new law that required that authorities must look for parents or guardians of the abandoned child, before taking the child to a state-sanctioned child care center.
In the countryside, child trafficking plagues parents where there are reports of babies being snatched from their parents' arms. The Public Security Ministry has estimated that it has rescued 54,000 children in the three and half years since its work started.
Here is a related video: