Chinese Catholics and Protestants Unite in 'Carry Crosses Everywhere' Campaign to Protest Massive Government Crackdown on Churches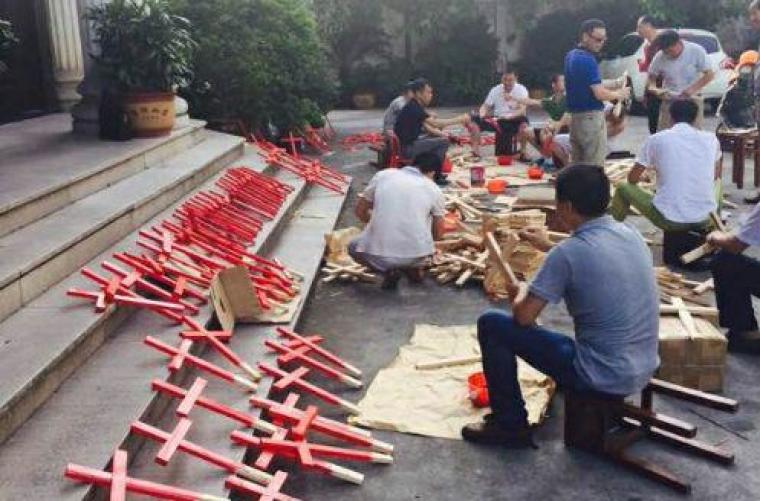 Roman Catholics and Protestants in the Chinese province of Zhejiang have launched a campaign aimed at making crosses and carrying them everywhere in response to the Communist government's continued crackdown on churches.
Asia News reported on Tuesday that the campaign, seeking to protest against the government in a legal and peaceful manner, has been met with great success.
Chinese Christians have been posting pictures on social media of crosses erected at their homes, while priests have called on churches across the nation to "join the rally" and show the government that Christians are united in protecting the holy symbol of the cross.
The effort is aiming to make a statement against Chinese authorities forcefully removing several hundred crosses from the rooftops of churches across Zhejiang. A report from May noted that at least 400 such crosses have been removed since early 2014.
The Chinese government has attempted to explain that the crosses are not being removed because Christianity is being targeted, but solely because of safety concerns.
"Generally speaking, the church staff and people [religious faithful] are very supportive," an anonymous official from Wenzhou's ethnic and religious affairs bureau told the Global Times. "We talked with some people who were not cooperating with the removal in a gentle way."
The official added that the removal of crosses is part of a "three revise and one demolition" campaign aimed at demolishing and renovating dangerous buildings.
Chinese pastors have argued, however, that the crackdown is designed to push back against the rise of Christianity in the world's most populous nation.
"The authorities have attached great importance to this religious symbol," pastor Zheng Leguo from Zhejiang said in May. "This means no more prominent manifestation of Christianity in the public sphere."
The crackdown has extended to other provinces as well, with a major incident in September 2014 in Guangdong leading to the arrest of 100 Christians, including children, who were taken into custody while attending a service at a house church. Christian pastors have also been arrested on a number of occasions in recent years, often accused of "disturbing public order" by gathering Christian crowds.
News of the government crackdown has also reached the U.S., where GOP presidential candidate Sen. Marco Rubio, R-Fla., said earlier in July that "without question, religious freedom is under assault in China."
Rubio added, however, that such repression "arguably had the unintended consequence of infusing many of these religious adherents with greater vibrancy as evidenced most dramatically by the explosive growth of Christianity in China."