Chinese Province Removes Hundreds of Crosses From Churches Amid Communist Regime's Fear of Losing Power to Christianity's Rapid Growth
Chinese Province Removes Hundreds of Crosses From Churches Amid Communist Regime's Fear of Losing Power to Christianity's Rapid Growth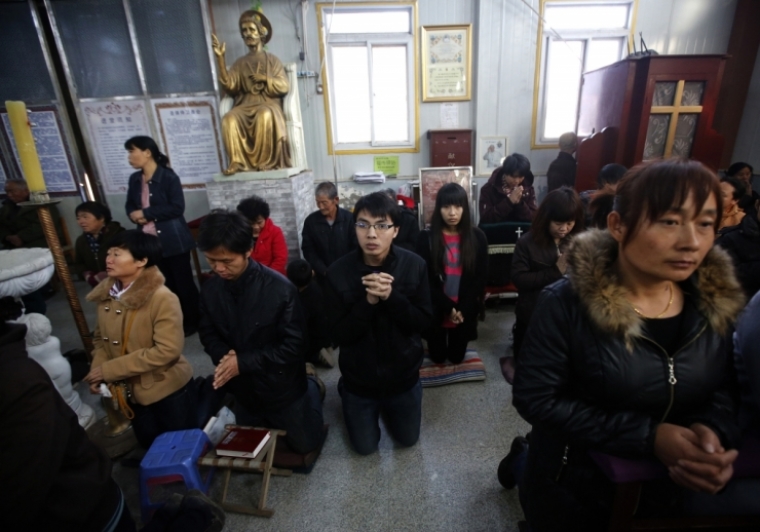 Chinese authorities in Zhejiang province have removed hundreds of crosses from atop Protestant and Catholic churches and believers expect the rooftop crosses to be removed from all houses of worship because the government sees the rapid growth of Christianity in the country as a threat.
"The authorities have attached great importance to this religious symbol," said Zheng Leguo, a pastor from the province who now lives in the U.S., in a CBS News report. "This means no more prominent manifestation of Christianity in the public square."
The province is now proposing an official ban on any further placement of crosses atop sanctuaries. But that has not stopped Zhejiang officials from toppling crosses from more than 400 churches since early 2014. The government has justified the action by claiming the crosses were a violation of the Communist regime's building codes.
"This new draft law is just another attempt by the government to legitimize its existing illegal violent campaign of destruction and removal of the cross," said Bob Fu of U.S.-based China Aid.
The government released the draft for the new rules for religious symbols on buildings last week and it says the crosses should be wholly affixed to a building's façade and be no more than one-tenth of the façade's height. It also must fit with the façade and the surroundings, according to the proposal. Government officials, however, did not reveal the reason why the ban is being proposed at this time.
Fang Shenglan, an engineer at Zhejiang Provincial Institute of Architectural Design and Research was involved with the research for the draft rules and confirmed that the government will soon ban rooftop crosses on churches.
The Zhenjiang province includes the city of Wenzhou, considered the Jerusalem of China by some, and is home to around 2,000 churches, many of which have had their crosses removed.
Despite China's identity as an atheist country with a history of Eastern religions such as Buddhism, the nation has been a hot bed for Christian growth since the 1980s when Beijing loosened restrictions on religion.
Fenggang Yang, a professor of sociology at Purdue University, said that by 2025 there could be as many as 160 million Protestant Christians living in China, according to a Telegraph report from April 2014.
"By my calculations China is destined to become the largest Christian country in the world very soon," said Yang. "It is going to be less than a generation. Not many people are prepared for this dramatic change."
In 2010, the nation housed around 70 million Christians and was already the seventh largest Christian country in the world, according to Pew Research.
Government persecution has led millions of Christians to worship in illegal house churches. Evangelism is allowed, but only in state-approved religious venues and private settings.
The World Watch List ranks China as the 37th worst country in the world for Christian persecution.