Chris Pratt Talks God in MTV Awards Speech: 'God Is Real and Loves You; Grace Was Paid For'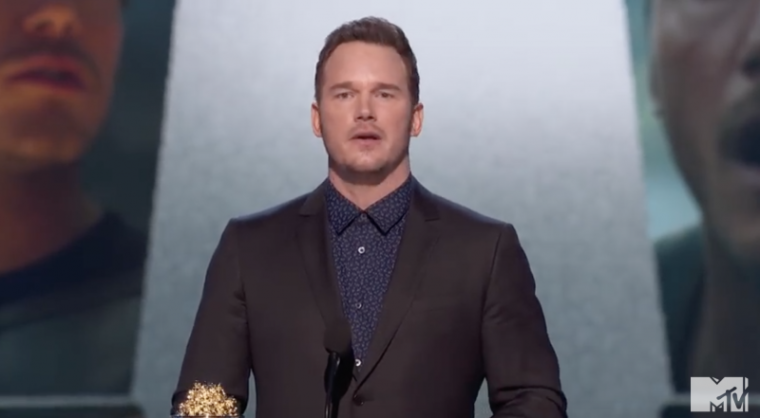 "Jurassic World" actor Chris Pratt accepted the Generation Award at this year's MTV Movie & TV Awards which aired Monday night and used the platform to share nine points of advice that were humorous and offered strong Christian guidance.
Pratt, 38, was introduced to the stage by two of his co-stars, Bryce Dallas Howard ("Jurassic World: Fallen Kingdom") and Aubrey Plaza ("Parks and Recreation"). Pratt first honored his family and said that while they didn't have a lot growing up, they always enjoyed being together.
"This being the Generation Award, I'm going to cut to the chase and I'm going to speak to you, the next generation. I accept the responsibility as your elder. So listen up," Pratt declared before listing the "nine rules from Chris Pratt, Generation Award-winner."
Below are six points of advice Pratt offered in his list of nine: 
1. You have a soul. Be careful with it.
2. If you're strong, be a protector. If you're smart, be a humble influencer. Strength and intelligence can be weapons, so do not wield them against the weak. That makes you a bully. Be bigger than that.
3. It doesn't matter what it is. Earn it. A good deed. Reach out to someone in pain. Be of service. It feels good and it's good for your soul.
4. God is real. God loves you. God wants the best for you. Believe that, I do.
5. Learn to pray. It's easy, and it is so good for your soul.
6. Nobody is perfect. People will tell you that you are perfect just the way that you are; you are not! You are imperfect. You always will be. But there is a powerful force that designed you that way, and if you are willing to accept that, you will have grace. And grace is a gift. Like the freedom that we enjoy in this country, that grace was paid for with somebody else's blood. Do not forget that. Don't take that for granted.
He ended the epic speech with a "God bless you" to everyone as the crowd cheered.
Throughout his career, the "Avengers: Infinity War" star has been vocal about his Christian faith. He skyrocketed into fame in 2014 with leading roles in "Guardians of the Galaxy," "Jurassic Park" and "The Lego Movie."
After his recent public split from actress Anna Faris, he recently revealed that his pastor's books have been helping him keep his faith strong.
"I read books by my Pastor, Chad Veach in Zoe Church LA," he said in a home video posted in December. "I find his book Faith Forward Future to be very helpful!"
TMZ first reported that Pratt was attending Veach's church after his very public split with his wife of eight years. The actor was seen taking his son, Jack, to a service at Zoe Church at the Del Rey Theater in Los Angeles.
Follow Jeannie Law on Twitter:
@jlawcp