Chris Tomlin Honors God on 'Fox & Friends' by Singing 'Good Good Father' (Watch)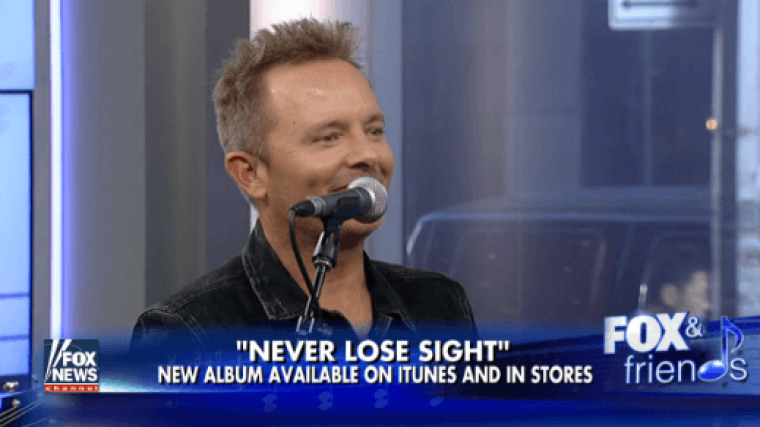 Grammy Award-winner Chris Tomlin released his 11th studio album Never Lose Sight on Oct. 21 and made a special guest appearance on "Fox & Friends" on Monday to honor God by performing his single, "Good Good Father."
As the Fox morning show hosts welcomed Tomlin to the network's performance stage they inquired about his No. 1 Billboard hit, asking if "Good Good Father" is a song he sings to his daughters every night before bed?
Tomlin chuckled and said he does actually, as they joked and said it's because he's a good father.
"Good Good Father" hit No. 1 on Billboard's Christian Digital Songs, Hot Christian Songs, Christian Airplay and the MediaBase Christian Audience Charts.
He performed the chart-topping single from Never Lose Sight live on the national program.
Watch the full performance below.
Tomlin was also a guest on Fox Nation with Todd Starnes and Tonya J. Powers of Fox News Radio.
He made some other promotional visits along the way to perform and talk about Never Lose Sight, as well as his song-inspired children's book, Good Good Father. The book was co-authored by Pat Barrett and Tomlin, and is the worship leader's first published children's book that was created to help kids understand who God is and His love for them.
On Tuesday, Tomlin debuted his TheatriCast event "Worship Night in America: An Evening of Unity and Prayer for Our Country."
"Worship Night in America" will run on 450 theaters and churches across the country. In the film, audiences will hear impactful messages from best-selling author Max Lucado and internationally known speaker, pastor and author Louie Giglio, along with powerful worship through songs led by Tomlin, Matt Redman, Matt Maher, Phil Wickham, Kim Walker-Smith and Tasha Cobbs.
His goal with the movie is not to have a politically driven event, but a night for believers nationwide to join together on a single night to pray for the United States and to worship.
For more information on "Worship Night in America" or Never Lose Sight, click here.