Christ Cathedral Receives $20M From Anonymous Donor; Catholic Diocese to Renovate Former Crystal Cathedral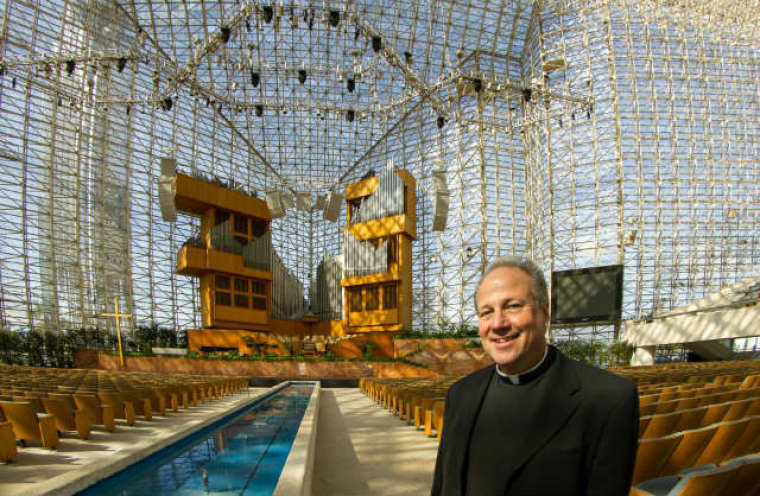 A California Roman Catholic diocese that owns the property that once was the Crystal Cathedral has received a $20 million donation for its renovation work.
The Roman Catholic Diocese of Orange announced that an anonymous donor gave $20 million to aid the estimated $113 million renovation of the former Crystal Cathedral.
In a statement made by the donor and released by the Diocese of Orange, the person said, "I hope this gift will inspire other donors in our community to give as well."
"I am blessed to offer my faithful and financial support to the diocese's efforts to restore and renovate the campus and make its vision for the Christ Cathedral a reality."
For decades, the Orange County located Crystal Cathedral was the notable megachurch headed by the Rev. Robert Schuller and his family.
However, financial scandals and in-fighting led to Crystal Cathedral Ministries filing for bankruptcy and eventually being compelled to sell their iconic property.
In February 2012, the Catholic Diocese of Orange purchased the building and grounds, renaming the sanctuary Christ Cathedral.
The diocese sought to redesign the facility at a price tag of approximately $113 million, with Bishop Kevin Vann of Orange explaining reasons for the projects in a statement made in September.
"Through this innovative design process, an insightful plan has emerged that will establish Christ Cathedral as a place for involvement in the sacraments, a place to hear the word of God proclaimed and a place for personal prayer and devotion," said Vann.
For the multiphase renovation endeavor, this latest donation of $20 million will go to the second phase of the plan, according to Chris Haire of the Orange County Register.
"The $20 million is the first donation toward the second phase's $60 million goal; this phase targets large donations and will be spent on campus renovations," reported Haire.
"During phase one, meant for various diocese projects including the campus renovations, the diocese received more than $85 million from about 24,000 parishioners."
As part of its deal with the diocese, Crystal Cathedral Ministries moved into a smaller church facility known as St. Callistus Catholic Church and dubbed their congregation Shepherd's Grove.
Bobby Schuller, the 33-year-old grandson of the Schuller who founded Crystal Cathedral, is the lead pastor of the replanted congregation.
A graduate of Oral Roberts University in 2003 and Fuller Theological Seminary in 2008, Sculler also re-launched the "Hour of Power" series once overseen by his grandfather.