Christian Baker Jack Phillips' Heart 'Warm to All, but Like Jesus He's No Coward,' Pastor Declares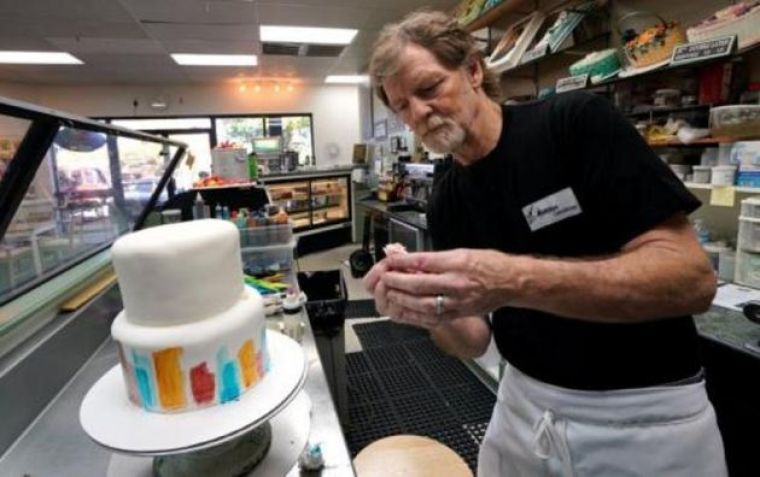 A pastor is describing Christian baker Jack Phillips as being much like Jesus ahead of his religious freedom case before the U.S. Supreme Court next week, saying that the business owner has a warm heart for all people, but is "no coward" and is standing by his convictions.
"December 5, 2017, a date which will live in eternity," declared Dix Winston, senior pastor at Crosspoint Community Church in Centennial, Colorado.
"On this date, Alliance Defending Freedom attorney Kristen Waggoner will argue Jack Phillips' case before the U.S. Supreme Court," he added in an ADF article posted on Thursday.
Phillips has found himself at the center of one of the most significant religious freedom cases in the United States in many years, concerning his refusal to make custom wedding cakes for gay couples due to his religious beliefs.
Phillips, who has also refused to make Halloween cakes and anti-American cakes in the past, was found guilty by the Colorado Civil Rights Commission in 2014 of discriminating against same-sex couple Dave Mullins and Charlie Craig in 2002 for refusing to participate in their same-sex marriage by baking a cake for their wedding.
The Colorado baker has maintained that he does not hate gay people and that they are free to purchase other items in his store, but insists that he cannot use his artistic talents for an event that contradicts his religious views.
As Winston noted, Phillips has held various media interviews, including an appearance on "The View" in June where he responded that Jesus would not bake a same-sex wedding cake, as it would go against Scripture.
"So what would Jesus do? In order to answer that question, we must first know who Jesus is. John tells us that Jesus was a lover and not a hater. 'Greater love has no one than this, that someone lay down his life for his friends,' (John 15:13). But His loving of all sinners did not give wholesale approval to all behaviors," the pastor positioned.
"Not only was Jesus a lover, He was also a 'truther.' Speaking to the religious leaders of His day He said, 'I speak the truth ...' (John 8:46). But this truth was not His. He told the religious leaders, 'I do nothing on my own initiative, but I speak these things as the Father taught me' (John 8:28). And He spoke it in love (Ephesians 4:15). So what would Jesus do? He would speak the truth in love," he continued.
Winston cautioned that speaking the truth is not "for the faint of heart," and said that like Jesus, Phillips is "no coward."
"Both Jack's and Jesus' hearts are warm to all. Both Jack and Jesus serve all, but serving all people does not mean sanctioning all behaviors, expressing every message, or celebrating every event," he insisted.
"Neither Jack nor Jesus would design the wedding cake that celebrates same-sex marriage, because Christians cannot celebrate what God does not condone (Genesis 2:24, Matthew 19:5-6). But they would offer the Bread of Life, the Good News of salvation in Jesus Christ."
Others, such as Carmen Fowler LaBerge, president of the Presbyterian Lay Committee, have also attempted to answer "What would Jesus do" in Phillips' situation.
"If people do not understand and acknowledge the reality of Who Jesus is, then they think they can put words in His mouth and have Him conform to their ways," LaBerge argued in an op-ed published in The Christian Post in July.
"If you know and acknowledge Jesus is the Son of the living God and that He and the Father are one, then you know He wouldn't bake a cake because to do so would be to bless or affirm or celebrate that which is contrary to His own original and good design for human life and flourishing," she added.