Christian Bakers Ordered to Pay $135K for Refusing to Bake Cake for Gay Wedding Get Day in Court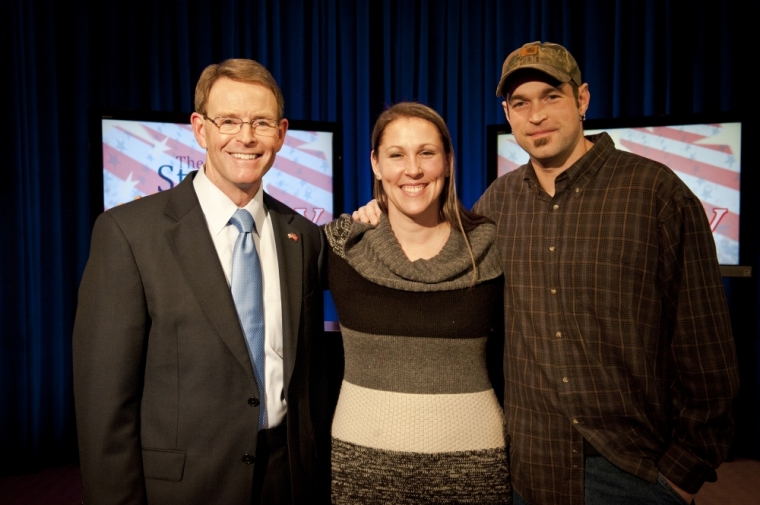 Aaron and Melissa Klein, a Christian couple from Oregon who lost their bakery and were ordered to pay $135,000 in damages for refusing to make a cake for a same-sex wedding in 2013, had their case heard in a court of law for the first time Thursday and they are now praying the court will rule in their favor.
"I'm thankful we actually got to have our day in court. This is the first time we've been in a court where due process was recognized, where we actually feel like the Constitution was recognized and we're looking forward to hearing the outcome," Aaron Klein said during a press conference after their case was heard at the Oregon Court of Appeals Thursday.
In 2013, the Kleins who operated a bakery called "Sweet Cakes by Melissa" in Gresham, Oregon, refused to provide a wedding cake to their customers, lesbian couple Laurel and Rachel Bowman-Cryer. Laurel alleged at the time that Aaron Klein called her relationship with Rachel an "abomination unto the Lord."
The couple later filed a complaint with Oregon's Bureau of Labor and Industries which ruled in July 2015 that the Kleins must pay damages totaling $135,000. Aaron Klein said during the press conference that the money has since been handed over to BOLI and remains in an escrow account while the appeals process is underway.
BOLI's Final Order against the Kleins awarded $60,000 in damages to Laurel Bowman-Cryer and $75,000 in damages to Rachel Bowman-Cryer for emotional suffering stemming directly from unlawful discrimination. The agency noted that the amounts are damages related to the harm suffered by the complainants, not fines or civil penalties which are punitive in nature.
It further noted that the non-economic damages are consistent with the agency's previous orders, such as an earlier ruling against a Bend dentist in the case of Andrew W. Engle. In that case, BOLI awarded a Christian employee $325,000 in damages for physical, mental and emotion suffering due to religious discrimination and harassment.
Lawyers from the nonprofit religious freedom law firm First Liberty Institute, which represents the bakers, noted during oral arguments that BOLI violated the Kleins' constitutional rights to religious freedom, free speech, and due process.
"The government should never force someone to violate their conscience or their beliefs," Kelly Shackelford, president and CEO of First Liberty Institute, said in a statement. "In a diverse and pluralistic society, people of good will should be able to peacefully coexist with different beliefs. We hope the court will uphold the Kleins' rights to free speech and religious liberty."
The case, Klein v. Oregon Bureau of Labor and Industries, was heard before a three-judge panel of the Oregon Court of Appeals.
In an emotional statement during the press conference Thursday, Melissa Klein said she had served the lesbian couple prior to the wedding cake request and would be happy to serve them again. She only wants to be allowed the right to not participate in a same-sex wedding to honor her faith.
"I was happy to serve this couple in the past for another event and I would be happy to serve them again. But I couldn't participate in the ceremony, it goes against what I believe. I have a strong faith in God whom I love with all my heart. My whole life is dedicated to living for Him in the best way that I know how," she said.
"America is a place where the government can't force you to violate your religious beliefs or tell you what to believe. But we feel like that is exactly what happened to us. We lost everything we loved and worked so hard to build," she said, breaking down.
"I love my shop. It meant everything to me and losing it has been so hard for me and my family. Nobody in this country should ever have to go through what we've experienced. We just want to be able to live in a place where the government tolerates and accepts differences, where we can continue to follow our faith. We hope even if people have different beliefs from us that they would show each other tolerance and that we can peacefully live together and still follow our faith. And that's all we want," she said.
Her husband, Aaron, reiterated that their legal fight is simply about religious freedom, nothing more.
"I know a lot of people probably want to know what we hope to gain from this. Man's court is gonna do what man's court is gonna do. The honest truth here is we just seek to serve the Lord. We want to do what's right by Him and at the end of the day, I just want to know that I honor God. ... For us it's about following God no matter the costs. As the Bible says, as for me and my house, we will serve the Lord," he said.