Christian lawmaker defends dropping 'F-bomb' in 'outrageous' classroom encounter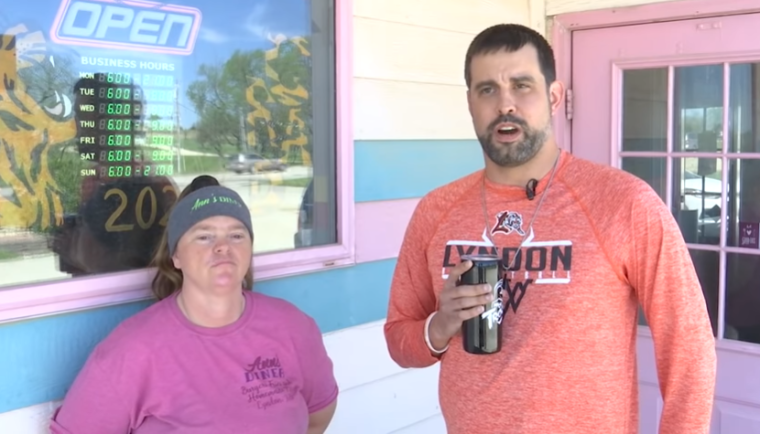 A Christian Kansas state lawmaker arrested Thursday after he used expletives, scuffled with a high school student and encouraged his class to kick the student "in the balls" while working as a substitute teacher defended his actions as a planned event to get the students' attention.
"Altercation is a strong word. There was no altercation. I'm sure there are one or two students that probably perceived it as one, but it was exactly as we planned it," Mark Samsel, a Republican member of the Kansas House of Representatives, told KSNT News Friday about his work in the Wellsville School District.
Samsel, who is also a member of Wellsville Family Church in Kansas, acknowledged that his conduct disclosed in series of videos recorded by his students and published online was intentionally "outrageous." In a social media post, Samsel stated that it was all "planned" to send a "message" about "art, mental health, teenage suicide, how we treat our educators and one another."
"If I hadn't been outrageous, if I hadn't dropped the F- bomb, if I didn't say I'm gonna 'bring the wrath of God on [the student]!' then nobody cares. Everyone keeps their head down and keeps on going," he said.
Samsel tells students in one video reviewed by The Kansas City Star about "a sophomore who's tried killing himself three times," adding that it was because "he has two parents and they're both females."
"He's a foster kid. His alternatives in life were having no parents or foster care parents who are gay," Samsel tells students in the video, according to The Star. "How do you think I'm going to feel if he commits suicide? Awful."
In another video, Samsel tells students to "make babies" and asks, "Who likes making babies?"
"That feels good, doesn't it? Procreate ... You haven't masturbated? Don't answer that question. ... God already knows," he was quoted as saying. 
Samsel is also shown in another video telling a male student, "You're about ready to anger me and get the wrath of God. Do you believe me when I tell you that God has been speaking to me?" He then pushes the student, who then runs off to the other side of the classroom.
"You should run and scream," he declares.
The teacher is reportedly shown in another video giving his class permission to kick the student "in the balls."
Parents explained to The Star that Samsel "put hands on the student" and allegedly kneed him in the crotch. Other video that appears to have been taken directly after that incident shows Samsel asking the student "did it hurt?"
"I'm a concerned parent who doesn't want this swept under the rug," Joshua Zeck told The Star. "He's around kids all the time. He's a state representative. He's in a position of power."
Zeck said that he felt Samsel was "bullying" the student.
Samsel, 36, was booked into the Franklin County Adult Detention Center after 3:30 p.m. Thursday. According to The Kansas City Star, Samsel was charged with misdemeanor battery. But, he was released on a $1,000 bond. Superintendent Ryan Bradbury also stated that Samsel will no longer be allowed to work for the school district in Wellsville.
The Democratic Kansas City Mayor Quinton Lucas agrees that Samsel should not be working with kids.
"What the hell is going on with the #KSLeg this session?" Quinton tweeted. "He shouldn't just be terminated from substituting. He should be blocked from being around all kids."
Parents told the newspaper that Samsel works with kids in various capacities: as a referee and through church groups. 
The Christian Post reached out to Samsel's church for comment Monday. A response is pending. 
Samsel doesn't believe that he did anything wrong.
"[There were] a few kids that were scared. … I didn't even know that they were scared because they were surrounded by their friends in their comfort zone. We were in the art room. Nobody was ever in danger. Did we make it look like we were in anger or outrageous or hurting kids? Yeah, we did. We made it look that way," he said. "I didn't do anything wrong. ... I get way more messages of support than are blasting me because they know me."
According to the Associated Press, Samsel will appear in district court on May 19.