Christian Life Coach to the Stars Tim Storey Talks Pastoring Charlie Sheen, Kanye West and Creating the Hollywood Bible Study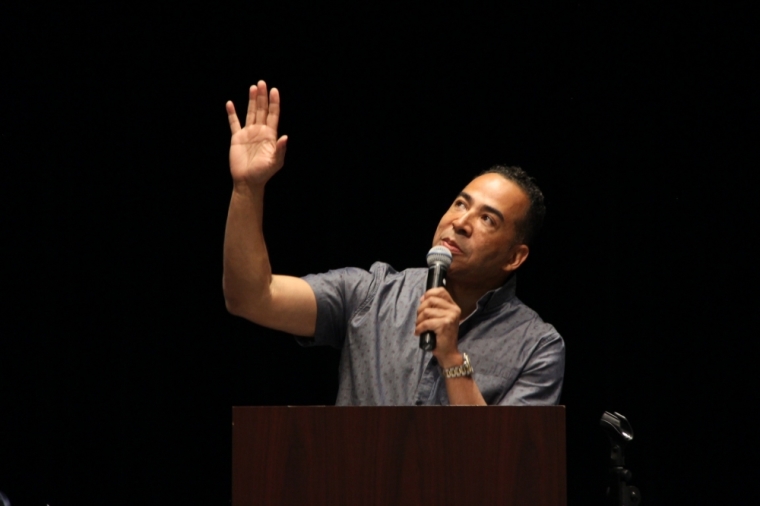 California Pastor Tim Storey has been called a life coach to the stars with a ministry that has led him to speak into the lives of countless celebrities including rapper Kanye West and actor Charlie Sheen, who had a highly controversial breakdown in 2011.
Storey, 54, is the pioneer of a spiritual meeting known as the Hollywood Bible Study that began in 1992 with 12 people that has grown to over 2000, but dealing with entertainers was not his original vision for his life while he was a student at South Eastern University in Florida.
"My dream was to reach all people and so when I first started [in ministry], I went on a lot of missions trips to third world countries," said Storey to The Christian Post. "And I would do motivational speaking in places like South Africa, Nigeria and some of the tougher parts of the Philippines."
Storey continued ministering in these countries well into his 20s and in 1992 he was propositioned to take on a different mission helping entertainers when actress Dyan Cannon asked him to do a Bible study in her house. From that point on, his ministry started reaching well known movie stars.
"I didn't realize that it was opening up a door to me that some 25 years later I would continue to walk through," said Storey.
Cannon's house was located in Beverly Hills and the study began with 12 people. Seven of them were well known entertainers. Although Storey did not want to disclose who those seven were, he has said in the past that some of the people he worked with early on included actor Charlton Heston and businessman Vidal Sassoon.
Shortly after these Bible studies began, agents of prominent entertainers started to contact Storey when their clients were struggling in their lives. By the end of the 1990s Storey had worked with actors Charlie Sheen and Robert Downey Jr. who have both struggled with drug abuse.
More recently, Storey said he's had "great conversations" with rapper and music producer Kanye West who is a professing Christian married to reality star Kim Kardashian. Storey said West has a persona most in the public have not seen.
"There's a side of Kanye that a lot of people don't know that I do," said Storey. "How kind he is to people. What a strong woman of God his mother was, Donda West. And so I would say I hope in the future that more people will get to know that side [of him]."
He also discussed his relationship with Charlie Sheen who had a very public breakdown after leaving his hit show "Two and a Half Men" in 2011.
"He is trying to learn about himself, he's trying to work through his own challenges, and we have amazing talks about God," said Storey. "Just like a parent or a mentor, sometimes we wish our children or our students would make different choices. And even at a faster pace. I've obviously wished that for Charlie. I'm still very hopeful that he will continue to make better choices."
Aside from one on one encounters, Storey hosts a slew of entertainers at his Hollywood Bible study which he describes as a "hybrid of motivational speaking and traditional Bible study."
The gathering includes people from all faiths and is held in the homes of different stars.
"We're reaching out to all types of faiths, from Jewish people, to Muslims, to people who come from a New Age background," said Storey, who says he still includes Christ in the conversation regardless of who he is preaching to.
"I talk about a certain message and I'll say you may see things differently, but let me show you the way Christ presents this in the Bible. Because this may be a way that makes sense to you."
He says a lot of people that attend the study end up becoming Christian months after they meet him and thank him for "giving them a chance to decide on their own."
The busy pastor recently had some high profile speaking engagements including being on Oprah Winfrey's Super Soul Sunday and an upcoming appearance at the Dalai Lama's 80th Birthday Celebration Summit in July, where he plans to share the story of the "God of Beyond" with those in attendance.
"The reason I would speak at the Dalai Lama's 80th birthday, I see it similar to the Apostle Paul speaking on Mars Hill," he said. "I'm going to talk about the God of Beyond. I'm going to talk about Jehovah. He thinks beyond. He dreams beyond. He creates beyond. And just like I do in the Hollywood Bible Study, I will tell them about a Jesus of Beyond."