Christian meditation: What practices are New Age and what is biblical?
What is Christian meditation?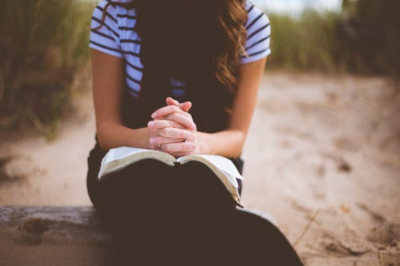 Mike Winger, associate pastor at Hosanna Christian Fellowship in California and a popular YouTube Bible teacher, cited the book of Joshua to explain what the word "meditate" means.
"This book of the law shall not depart from your mouth, but you shall meditate on it day and night, so that you may be careful to do according to all that is written in it; for then you will make your way prosperous, and then you will have success." (Joshua 1:8)
"Meditate," Winger said, "is a Hebrew word that has a range of meaning but in the context of this passage it is talking about speaking in a quiet voice like when you are really thinking something through. You could picture someone reading to themselves quietly or working out a problem out loud. This is what I call 'thinking out loud.'
"It isn't really related to the idea of monks harmonizing in deep guttural tones with indistinct words. It's a person who is thinking deeply and thoroughly about the Bible."
The type of meditation the Bible is encouraging is not a way of "feeling good" but rather, a way of learning Scripture "so that we can do what it says," Winger clarified.
"Every time you listen to a Bible study, read the text of Scripture or just sit and mull over the meaning of the Bible, you are doing this kind of meditation, just so long as the end result is that you would obey it. The direct application is to Joshua's people at the time but the principle of 'studying the Bible to obey what it says' applies to us today."
Along with meditating on the Word of God, Scripture encourages Christians to meditate on who God is and what He has done, Winger added.
"There are actually several times in the Bible where someone considers who God is and it changes their mentality in very positive ways. After many chapters of confusion and complaining, Job sees God and comes to realize how glorious, sovereign and wise God is. This causes Job to see his own life in a new light and to stop his complaints against God," the pastor explained.
He also cited Psalm 73 to note how the psalmist "stops grieving over the wickedness of ungodly people when he goes into the temple and remembers that God is the judge of all" and then "sets himself on the path of just trusting and obeying God."
"We do need to stop and think about who God is, what God has done and what God has promised to do; it's a remedy to all manner of wrong thinking."
Meditation is very much a Christian discipline but it has largely been neglected, Danny Silk, a leader at Bethel Church in California and spokesperson for the Christian meditation app Soultime, lamented. And not many Christians even know how to meditate.
Christians should meditate daily, he stressed. That's how they can "grow in their experience of peace and joy and faith."
Erwin McManus, who leads Mosaic Church in Los Angeles and is author of the new book The Way of the Warrior, echoed the need to meditate at least 30 minutes a day.
"If you don't take time away from the world around you, you're going to get pulled down by the world around you," McManus said.
"What God wants you to do is to meditate on the things from above. God wants you to meditate on the very things that are good and true, and beautiful," he emphasized.
"But the problem is that even neuroscience tells us that we need 30 minutes to an hour every day without any outside stimulus for our brain to be healthy. Thousands of years ago, before we understood neuroscience, the Bible understood us, God understood us and God knew we needed to meditate. He knew we needed to recharge. He knew that our brains needed to reflect."
There's no better example than Jesus when it comes to meditation.
"Jesus himself sets the standard of intimacy with God," said Russ Jones, producer of the Abide Prayer & Meditation App. "The Gospels reveal Jesus continuously withdrew from His daily routine to pray, meditate and be alone with the Father. This intimacy with God gives us wisdom and peace to navigate what life brings and where God wants to lead. If the goal of the believer is to seek God in all we do, then doing as Jesus did is the key."