Christian Millionaire Wayne Huizenga Jr. Shares Conversion Story With 500 NYC Business Leaders at Luis Palau Event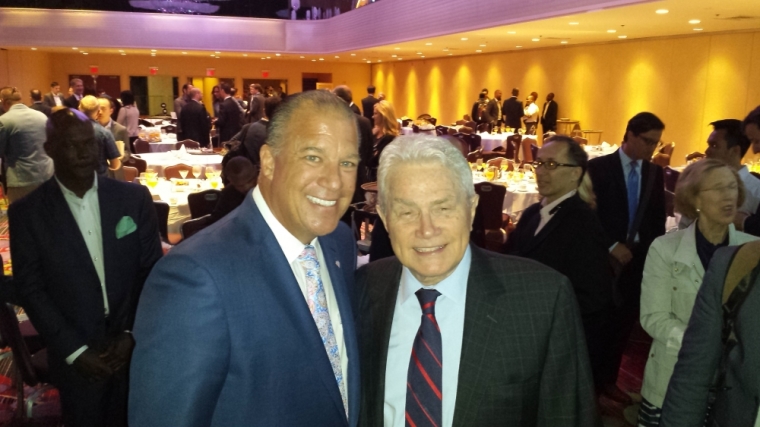 NEW YORK — Christian millionaire Wayne Huizenga Jr. shared his conversion testimony with 500 business and community leaders in New York City Tuesday at a breakfast hosted by renowned evangelist Luis Palau in preparation for the upcoming NY City Fest event set for July 11 in Central Park, Manhattan.
Palau and his son, Kevin, hosted the breakfast to discuss the upcoming festival, which will feature performances from Christian singers including Toby Mac, Mandisa and Matt Redman on the Great Lawn of Central Park.
Huizenga, son of billionaire businessman and co-founder of three Fortune 500 companies Harry Wayne Huizenga, was invited by the Palaus to share his story of salvation.
Huizenga, who has shared his testimony before, was raised in the Dutch Reformed Church which he described as "strict." He was turned off by the church, however, after his mother was booted out for divorcing his father.
He said his stocks in Blockbuster made him a rich man at a young age, but he told the crowd that he felt something was still missing from his life.
"Dad was successful, we owned the [Florida] Marlins, the [Miami] Dolphins, the [Florida] Panthers, three professional sports teams. I flew around on his private jet. [I thought] it doesn't get any better than this. But God had a plan," Huizenga said.
By this time he was married with children and his mother challenged him to raise them with some sort of grounding and recommended he return to church. He told her he didn't have the time for church since he was partying on the weekends and engaging in excessive drinking. He took her words more seriously, however, after meeting Navy Captain Brad McDonald who he frequently accompanied on fishing trips.
"He didn't swear a lot, he didn't drink in excess like I did. He had a peace about him that was unlike anyone I'd had ever seen before," Huizenga continued.
After spending about three years getting to know McDonald, Huizenga decided he wanted to be more like McDonald and that's when the captain suggested a relationship with Christ.
"He told me I had a hole in my heart, not a physical hole. [He said] That hole in your heart can't be filled with anything, but a relationship with God," Huizenga explained.
And he listened.
After attending a few different churches, Huizenga said he truly accepted Christ and repented during an altar call at a megachurch when a pastor told him he believed God had a purpose for his life.
"It was kind of uncontrollable for me. I heard this voice inside me say: 'Sit down, everybody's looking at you. You look foolish.' There was no way of me getting back into that chair," he said.
Huizenga stood in front of 3,500 people and accepted Christ that day. He continued his partying lifestyle, but said he felt guilty after engaging in those activities he once enjoyed. God had changed him and one of his Christian friends told him that he "was taking God partying" by living a double life. He eventually changed his lifestyle.
His newfound faith also made him realize that what he had before was "a relationship with church, but not a relationship with God." He was now able to do more than just carry a Bible and look like a Christian.
Huizenga's mother later fell gravely ill and died, but his faith allowed him to care for her in a way he would not have been able to before meeting Christ.
Palau followed up Huizenga's testimony by stating the millionaire is a "new man" and reiterated the point he made about having a relationship with the church, but not God or Christ.
"Make sure that your retirement plan includes eternal life," Palau added.