Christian NBA Star Stephen Curry Hopes to Be Face of the League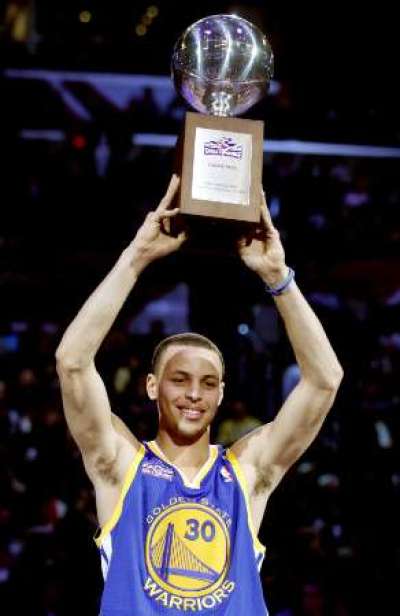 Stephen Curry hopes that one day he can become the new face of the NBA.
Curry, the 26-year-old Golden State Warriors point guard, came into the league in 2009 and took part in his first NBA All-Star Game last year. Now that he's returning for a second year in a row with an All-Star game performance resulting in 15 points, five rebounds and nine assists, it seems he's ready to be the face of the NBA in the way famed baller Lebron James is.
"I hope to be. Obviously, it's nice that the fans are supportive and show out like that in the voting process for the All‑Star game," Curry told reporters after the game when questioned about wanting to be the face of the league. "I never expected that. Two years ago I wasn't here, so it's pretty special, and I hope to continue that trend upward to doing great things in this league."
The Christian athlete has also been vocal about the role faith plays in his life.
"There are so many things we have to overcome in this life with Jesus. His work on the cross, He's paid the ultimate price for us, so I'm proud to be a child of God," Curry told Active Faith.
While the NBA All-Star has had to deal with injuries during his basketball career, he admitted that the tough times have brought him closer to Christ. Now, he uses the platform that he has to glorify God in different ways, like pointing upwards after making big plays.
"I try to use every game as an opportunity to witness. I try to do a little signal every time I make a shot as a way to preach the message in little ways that I can," Curry revealed to Active Faith sports brand last week. "Each game is an opportunity to be on a great stage and be a witness for Christ. When I step on the floor, people should know who I represent, who I believe in."
Curry released his signature sneaker for Under Armour on Feb. 13, called The Curry One.
During a recent Q&A session, the athlete spoke in detail about his faith after one member of the media questioned him about the meaning of the 4:13 that he made sure was placed at the bottom of some of the sneakers' tongues. Inside the tongue reads, "I can do all things," which comes from Philippians 4:13 which reads "I can do all things through Christ who strengthens me." (KJV).
Curry spoke about his idea to include the phrase in his first signature shoe for Under Armour.
"It represents a Bible verse I wear on my shoe," Curry told the media, according to previous Rapzilla reports. "Philippians 4:13. It says 'I can do all things through Christ who strengthens me.' It's also my mantra, how I get up for games and why I play the way I do."