Christian Olympic Gold Medalist Sanya Richards-Ross Testifies About Her Family Miracle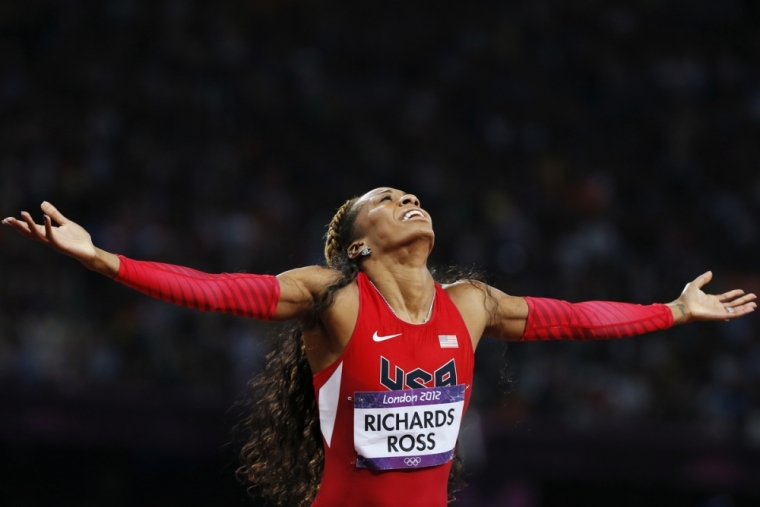 Four-time Olympic track and field athlete Sanya Richards-Ross has been vocal about her Christian faith for some time, but it was her mother-in-law's survival that cemented the world class athlete's belief in miracles.
"How do I know God is real.... I see Him working all around me. My mother-in-law was so sick over a year ago. She was diagnosed with sarcoidosis and CHF," Richards-Ross wrote on Instagram. "The doctors gave her 6 months... Well it's been over a year and she's not only here, she is a great testimony for God's love and favor. #ThankYouJesus #GodIsStillWorkingMiracles #GetToKnowHim #ThereIsNoGreaterLove @mamaross31."
The Olympian was speaking about Cheryl Ross, the mother of her husband and NFL free agent Aaron Ross. Cheryl agreed that God's grace enabled her to exceed doctors' expectations.
"Amen!!! Nobody but God's Grace, & Lots of Prayer," Cheryl wrote. "Thnx for sharing San...Much Love."
Richards-Ross is currently training for her fourth Olympics, the 2016 Summer Olympics which will be held in Rio de Janeiro, Brazil. In 2012 she won the 400-meter sprint in London and took gold in the 4x400-meter relay in 2012, 2008 and 2004 Olympic Games.
Aside from her training for the Olympics, Richards-Ross also opened up last year about writing a book due for release in 2016.
"My book will be so powerful. ... I really hope all my experiences, good and bad, will help many be their best! #Writing #Inspired," Richards-Ross previously tweeted. "... Just started. ... So much on my mind and in my many journals! Time to share!!"
The track athlete has been transparent with her fans for years on both social media and her 2013 WE reality television series, "Glam and Gold." After participating in the #WeAreAllUncool online campaign last year where people celebrate their insecurities, Richards-Ross told "Women's Running" about God using her despite her insecurities.
"As I've gotten older I realize we all have insecurities and fears and it's normal! Instead of running from them I embrace them and move forward," the Christian athlete told "Women's Running" magazine. "I encourage myself knowing I am who I am for a reason and that God is working through me. That gives me the confidence I need to do anything!"
While she may be equipped with a great deal of confidence, that does not mean Richard-Ross is exempt from having to deal with setbacks. Earlier this year, she failed to qualify for the 400-meter final at the USA Outdoor Track & Field Championships.
Although she took to Instagram to admit feelings of discouragement, Richards-Ross also looked at her disappointment from a faithful perspective while preparing for the 2016 Olympic games in Rio de Janeiro, Brazil.
"This is not how I envisioned my 2015 but I know God is always on time," she wrote on Instagram. "I know I'll make the necessary adjustments and be ready for Rio! Thanks for all the love, it means more to me than I could express #TeamSRR #OnAMission #RoadToRio #Blessed."
After undergoing multiple surgeries due to a foot injury, the four-time Olympic gold medalist says she is powered by faith.
"When I trust in God, He comes through," Richards-Ross previously told The Christian Post. "I just think, as I've grown in my faith and grown in my trust in God, every obstacle doesn't seem insurmountable."