Christian Outraged as Decades Old Jesus Portrait Is Forcefully Removed From Kansas School by Atheists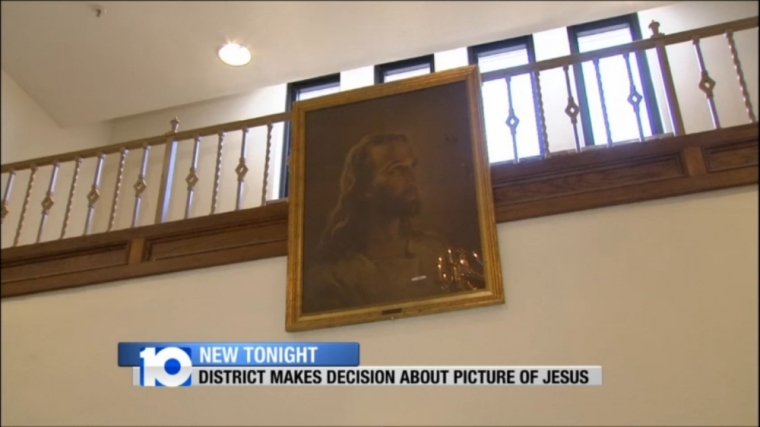 Kansas residents are outraged after an atheist group forced a local middle school to remove a portrait of Jesus Christ that had been displayed in the school since the 1950s.
"I'm sick of this," said 53-year-old Chanute resident Jack Lynch, according to Reuters. "This country was founded on Christian beliefs. In God we trust. Now people want to come in and change all that. If they don't like it let them leave."
The Freedom From Religion Foundation, a Wisconsin-based atheist organization, warned Royster Middle School Superintendent Richard Proffitt that the portrait's display at the public school was an "egregious violation of the First Amendment."
Proffitt subsequently explained that after receiving the complaint he had no choice but to remove the portrait from the school.
"I conferred with legal counsel and both of them told me to be in compliance with state and federal law that we had to have it removed," he said.
Proffitt added, however, that people from around the country have since complained about the portrait's removal.
FFRF law clerk Ryan Jayne said that a local community member initially notified the law group about the portrait.
"They were afraid to bring it up themselves so they came to us," Jayne said.
"In areas that are predominantly Christian, the backlash that non-Christians receive when they speak out against government endorsement of religion can be very severe."
WIBW noted that in the letter to the superintendent, FRFF contended that "if a large portrait of Jesus were to hang in the hallway at Royster Middle School, an objective observer would have no doubt that it had the district's stamp of approval."
The atheist group made note of a similar recent case in which a middle school in Jackson, Ohio, was also forced to take down the same painting of Christ and pay $95,000. FFRF argued that had Jackson Middle School not decided to take down the portrait, "their costs would almost certainly have been several times higher."
The Wichita Eagle reported on several other residents who voiced their complaints in an article last week.
"Oh man, it's getting bad," said Erika Semey. "That's what's wrong with this world. Not enough people have Christ in their lives."
As for the portrait itself, Proffitt said that he isn't sure when exactly the middle school acquired it.
"I do know it's been decades," Proffitt said. "Some people who went through the system before — 30 to 40 years ago — knew it was hanging in the hallway back then. It was kind of a permanent fixture, if you will."