Religious Persecution Exists Even in the US, Kerry Admits During Rollout of International Religious Freedom Report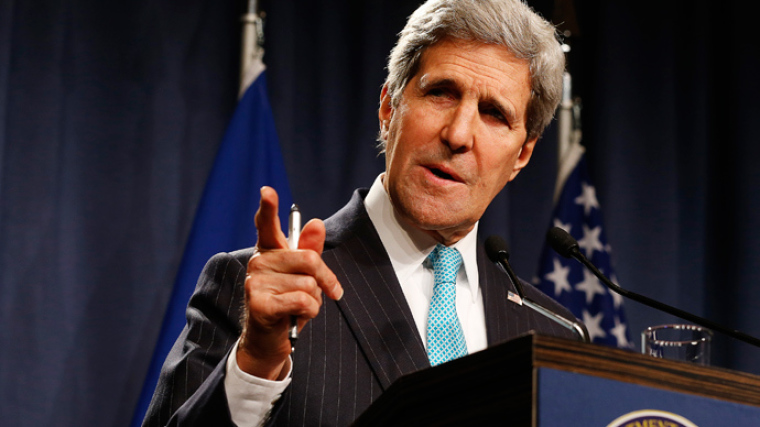 U.S. Secretary of State John Kerry and State Department Ambassador at-large for International Religious Liberty David Saperstein introduced on Wednesday the 2014 International Religious Freedom Report, which highlights the disturbing trends of religious martyr and persecution that occurred in every continent in the world.
The International Religious Freedom report, which is now in its 17th year of existence, is a congressionally-mandated report compiled by State Department staffers, which seeks to give voice to people throughout the world who have been victimized by various forms and degrees of religious persecution.
The 2014 report focused on a number of troubling trends including the rise of global extremist violence, the continued rise of anti-Semitism in Western Europe, the negative impact that blasphemy and apostasy laws have on the liberties of religious minorities, governmental religious hostility and societal violence and discrimination.
"The message at the heart of this report is that countries benefit when their citizens fully enjoy the rights to which they are entitled," the 71-year-old Kerry said during a Wednesday press conference. "And this is not a hopeful theory; this is a proven reality. No nation can fulfill its potential if its people are denied the right to practice, to hold, to modify, to openly profess their innermost beliefs."
With the Islamic State terrorist group rising to prominence in Iraq and Syria over the summer of 2014, the report's introduction painted a bleak picture into the plight of the region's historic religious communities. As IS militants have forced non-Muslim believers to convert, pay a ruinous tax or die, hundreds of thousands of Christians, Yazidis, Druze and even Muslims either had to flee from their homelands or risk being killed, tortured or sold into sexual slavery.
"On both sides of the border, ISIL sought to elimina­­­­­te members of any group it assessed as deviating from ISIL's own violent and destructive interpretation of Islam," the report states. "It has forcibly displaced hundreds of thousands of people, conducted mass executions, and kidnapped, sold, enslaved, raped and/or forcibly converted thousands of women and children — all on the grounds that these people stand in opposition to ISIL's religious dogma."
Although IS has been the major human rights culprit in the region, the group is not the only one to blame for human rights violations, as Shiite militants in Iraq and the al Nusra Front (al Qaeda) in Syria have also committed their fare share of abductions, executions and atrocities.
But for as bad as the Islamic State has decimated religious minority communities in Iraq and Syria, Boko Haram in Nigeria has been just as bad or worse when it comes to decimating Christians and political enemies in Nigeria, Chad and Cameroon. Although the militant group has been in existence for about six years, the report states that Boko Haram killed more people in 2014, than it did in the previous five years combined — over 9,000 people.
"The repugnance of these acts is only multiplied when the perpetrators seek to justify themselves by pointing a finger at God and claiming somehow that God licensed these acts," Kerry stated. "We are, and we will continue, to oppose these groups with far more than words of condemnation that are contained in this report."
Although Saperstein asserts that radical terrorism is the greatest threat to international religious liberty worldwide, he stated that blasphemy and apostasy laws in countries like Saudi Arabia, Pakistan, Sudan and Egypt are being used to justify societal acts of violence against religious minorities.
In Pakistan last November, a married Christian couple was beaten by a large mob in the Punjab province and then burned alive in a brick kiln because they were accused of desecrating pages of the Quran. On May 8, 2014, an unidentified gunman killed Rashid Rehman, an attorney representing a university lecturer accused of blasphemy.
Blasphemy and apostasy laws have also been used against religious minorities to sentence them to unjust and heinous punishments. On May 15, 2014, Christian mother Meriam Ibrahim was sentenced to 100 lashes and death by hanging in Sudan because she was accused of committing apostasy for marrying a Christian man. In Saudi Arabia, liberal blogger Raif Badawi was charged with apostasy and sentenced to 10 years in jail and 1,000 lashes.
"The United States uniformly opposes such laws which are used to oppress those whose religious beliefs happen to offend the majority. Such laws are inconsistent with international human rights and fundamental freedoms, and we will continue to call for their universal repeal," Saperstein said.
"The existence of such laws has been used in some countries as pretext to justify violence in the name of religion to create an atmosphere of impunity for those resorting to violence and/or leads to false claims of blasphemy."
In his remarks, Saperstein also touched on how repressive governments subject their citizens to violence and imprisonment simply for expressing their faiths.
"We see this dramatized by the plight of countless numbers of prisoners of conscience," Saperstein said. "We remain deeply committed to seeing such individuals freed everywhere in the world."
The ambassador at-large particularly highlighted Vietnam, where local authorities and police, along with hired men, harassed a group of unregistered Mennonites. According to church leaders, government forces raided Bible classes, beat and detained congregants, prevented movement of church members, prevented believers from leaving their homes and vandalized churches.
"In my travels to Vietnam, I saw firsthand how religious groups are forced to undergo onerous and arbitrary registration processes to legally operate," Saperstein said.
Although some countries are worse than others when it comes to human rights violations and religious freedom violations, Kerry asserted in his closing remarks that no country in the world is free from religious persecution.
"I note that religious bigotry is present to a degree in every continent and every country, and sadly, even including our own," Kerry admitted. "It may be expressed through anti-Semitism or prejudice against Muslims; through the persecution of Christians, Hindus, Buddhists, Sikhs, and others; or it may come in the guise of attacks against religion itself, as we saw so tragically in Oregon at the beginning of this month."