Christian Persecution on Rise in Pakistan as Believers Fear Muslim Mobs Torching Homes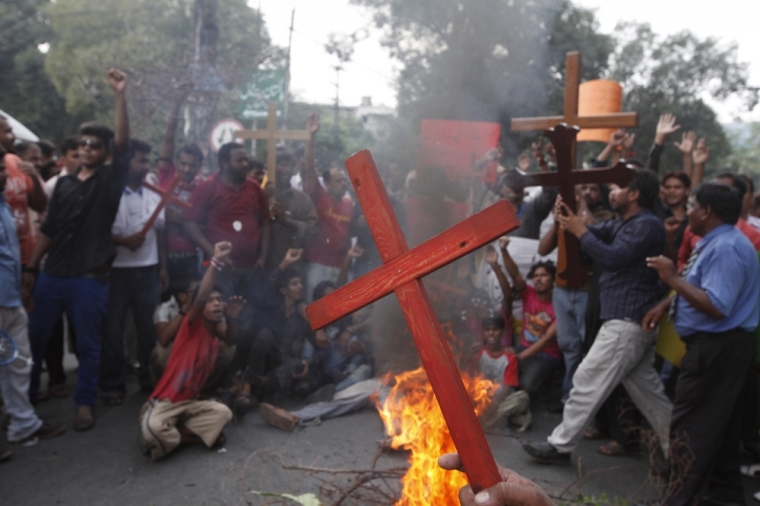 Police in Pakistan are doing little to protect the minority Christian community from the harassment they face from the Muslim majority, including threats to convert to Islam or abandon their homes, according to an Asian Human Rights Commission report.
While attacks and persecution against Christians have been ongoing throughout the country in the past few years, AHRC said in its report that Christians residing in Chak 44, Mandi Bahaudin, Punjab Province, have especially faced aggression at the hands of the local Muslim community.
The human rights report summarized several local instances of Muslims placing conditions on Christians to choose between converting to Islam or leaving the village, a threat which police have done little to respond to. What is more, Christians often face unsubstantiated allegations of blasphemy, which puts them in trouble with Islamic clerics.
Christian residents of Chak 44 have said as many as 75 percent of followers of Christ have fled from the village, while those who remain have no food to eat, with the local Muslims refusing to sell them provisions.
"The situation is getting worse with each passing day. The Christians are living in constant fear that their houses may be set on fire by a mob if the police does not provide them with round the clock security," the AHRC report warned.
The human rights group has called on both the central Pakistan government and the U.N. Special Rapporteur on the freedom of religion to intervene and pressure local police to do more to ensure the safety of worshipers, as well as to bring perpetrators of violence to justice.
Christians have suffered attacks not only in smaller villages but also in major cities like Lahore. A horrific attack at the end of June saw a Christian mother beaten and gang-raped in front of her five children by a Muslim man seeking to avenge his family's "honor," because the woman's sister fell in love and fled with the man's brother.
Christian lawyer Aneeqa M. Anthony, coordinator of the NGO "the Voice Society," explained that the Muslim man in question who escaped with the Christian girl came from a very influential family in Lahore, which prompted his brother to seek revenge.
The AHRC suggested that Christians can take steps to demand better protection from government authorities, such as writing letters.
"The Christian community of Chak 44, in Tehsil Phaliyan, Mandi Bahaudin's cordoning off by the Muslim clerics and their supporters in the area, must be immediately halted," the group stated back in May, and listed the mailing addresses of a number of officials that can be contacted.
"The state must proactively work towards encouraging interfaith harmony and prosecute perpetrators of violence in the name of religion without fail or delay," it added.