Christian Rapper Lecrae Asks: 'Do You Understand Your Value?' in Speech to Millennials About 'Reflecting the Glory of God'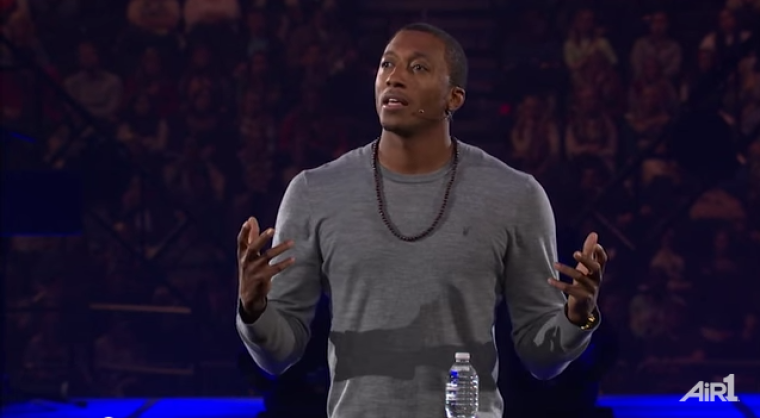 Grammy Award-winning Christian hip-hop artist Lecrae shared his faith and belief that all of humankind is "the public manifestation of God's glory" when he took the stage at Passion City Church's first-ever Passion 2015 event earlier this year.
In a recently-released video from the Atlanta conference, Lecrae is seen opening up his talk with a story about Muhammad Ali before delving in to what God's glory actually means.
"We are not supernatural people, we are not superheroes, we do not have super powers, but we're here to reflect the one superhero," the 36-year-old rapper emphasized before the gathering of 18-25-year-olds. "We're here to let the world know how awesome He is, not how awesome we are."
Lecrae went on to explain his own understanding of God's glory as "a display of perfection, honor and fame," as well as "the going forth of His holiness."
He added: "When His holiness is made public, we call it glory. I think all of creation as telling the story of God's glory. We are the public manifestation of God's glory. When the Earth reflects His holiness, we call it glory. Creation itself derives its worth from God. We're here solely to manifest His holiness, to demonstrate how glorious He is. Our value is wrapped up in Him," he added when speaking at Passion 2015 in January.
As an example, Lecrae recalled shopping in Beverly Hills where he found a T-shirt priced at a staggering $640.
"What kind of gold fabric is woven into this," the rapper jokingly thought.
After consulting a cashier about the price of the shirt, Lecrae learned that the name of the fashion designer on the product determined its value — a fact that brought about the rapper's profound realization of his own worth as the product of God.
"Do you understand your value because of whose name is on you," Lecrae asked the audience at Passion 2015. "Do you understand your worth and your value comes from whose name is on you? Do you understand that God's glory is stitched in your genes? You're here to glorify Him."
Passion 2015 is not the only Christian conference Lecrae has attended this year. Over the past weekend, the rapper joined "Duck Dynasty" star Sadie Robertson at RUSH (Reaching Unchurched Students for Him) 2015.
Meanwhile, Lecrae's latest album Anomaly became his first No. 1 album on the Billboard 200 last summer.
More recently, the "Nothing" singer earned the 2015 Grammy for Best Contemporary Christian Music Performance/Song for the song "Messengers," which features the Christian music group for King and Country. In a recent interview just days before his Passion 2015 speech was released, Lecrae credited God for his skyrocketing career.
"I don't accredit any of this to just my capability or talent," Lecrae told the Christian rap website Rapzilla. "I think God is doing something far beyond my comprehension. So I don't understand it. I don't try to make a science out of it."