Christian Rapper Lecrae Takes White Evangelical Fans to Task After Criticism for Posting Samuel Dubose Video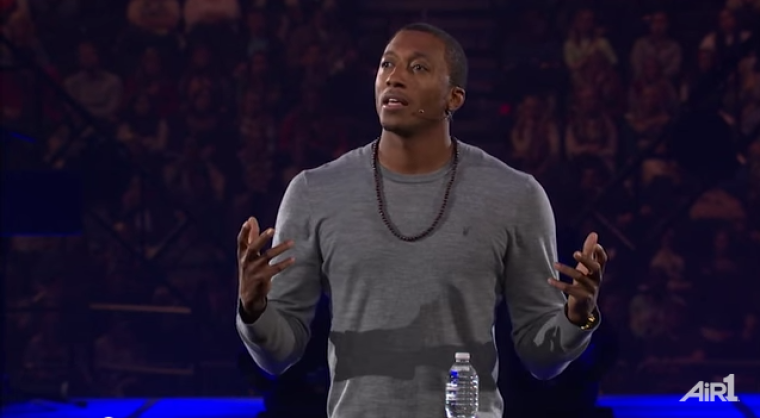 In a very candid video appeal on Wednesday, popular Christian rapper Lecrae challenged his "white brothers and sisters" to explain why they never protest when he talks about issues like abortion or the Islamic State terror group, but usually express concern when he speaks out about racial injustice.
"I have historically posted things about abortion, Planned Parenthood, and my thoughts on that. I've sat down with leading thinkers and pastors. I've done videos, posted those videos. Talked about ISIS and the terror that is ISIS and how it has affected us all, it affected our Christian brothers and sisters throughout the world," said the rapper in the video posted to his Facebook page.
"In both of those instances I have received encouragement and people saying thank you for speaking about this. We appreciate this, specifically from my white brothers and sisters. But yet, when I've spoken out recently about what I see to be authoritative or racial injustice, there is this sentiment of what feels like hostility," he explained.
"I don't want to read into people's comments but it feels like hostility or defensiveness. And many times there's a response of 'why don't you talk about ISIS? Or why don't you talk about abortion?' And I've never seen on the times when I've spoken about persecution or abortion people respond with 'why don't you talk about racial injustice?' And so I'm interested in understanding what the sentiment here is?" he said while warning against antagonistic reactions.
Lecrae's challenge came after making two earlier posts highlighting the shocking body camera video showing the shooting death of 43-year-old Samuel Dubose by University of Cincinnati police officer Ray Tensing during a traffic stop on July 19 and excerpts from the 2001 book, Divided by Faith: Evangelical Religion and the Problem of Race in America by sociologists Michael O. Emerson and Christian Smith.
Pointing to the excerpt from the book, Lecrae highlighted that "boats need rockin[g]."
Traversing history, we find some common markers. Because evangelicals view their primary task as evangelism and discipleship, they tend to avoid issues that hinder these activities. Thus they are generally not counter-cultural. With some significant exceptions, they avoid 'rocking the boat,' and live within the confines of the larger culture. At times they have been able to call for and realize social change, but most typically their influence has been limited to alterations at the margins.
So, despite having the subcultural tools to call for radical changes in race relations, they most consistently call for changes in persons that leave the dominant social structures, institutions, and culture intact. This avoidance of boat rocking unwittingly leads to granting power to larger economic and social forces. It also means that evangelicals' views to a considerable extent conform to the socioeconomic conditions of their time. Evangelicals usually fail to challenge the system not just out of concern for evangelism, but also because they support the American system and enjoy its fruits. They share the Protestant work ethic, support laissez-faire economics, and sometimes fail to evaluate whether the social system is consistent with their Christianity.
Challenged by the discussion, a number of the rapper's white fans provided insights he called helpful.
"The white race feels victimized by all this news (not new at all) about racism. It's rooted in our insecurity and ignorance of what race and culture actually is. Some people would rather talk about issues that don't involve themselves in any way as a possible culprit. They'd rather point the finger than be vulnerable," noted Nathan Miller in a response that was liked nearly 2,000 times.
"I think defensiveness is greater on race relations as opposed to abortion and ISIS because of the characters involved. So with ISIS you have evil, unequivocal evil. So there is no defensiveness and people want to talk about that. With abortion, you have innocence (not speaking theologically but of perception), so people want to wade into those waters to protect the innocent. With race relations you have complexity, as there is abuse from both sides," wrote Eric Dickey.
"There is an element of aggression and intimidation present in the urban black community. It's undeniable. There is aggression and intimidation and power abuse by police. But many white people can't see that side of the police, because we see our neighbor, or our uncle, or cousin, or dad. It's close. So, to delve into this discussion requires caution and gray lines, and people don't like that. I don't know. It's a heartbreaking issue. It's hard being this divided, and knowing you don't want to be," he added in his comment that was liked nearly 1,000 times.
"Lecrae, I am a 54-year-old Caucasian female who loves your music and the way you speak truth. I believe this is a conversation that needs to happen, and I believe that unless people can be honest without being ugly nothing will be accomplished," noted Tracy Enman Carrasquillo.