Christian School's Policy Banning Sikh Boy's Religious Head Covering Found Discriminatory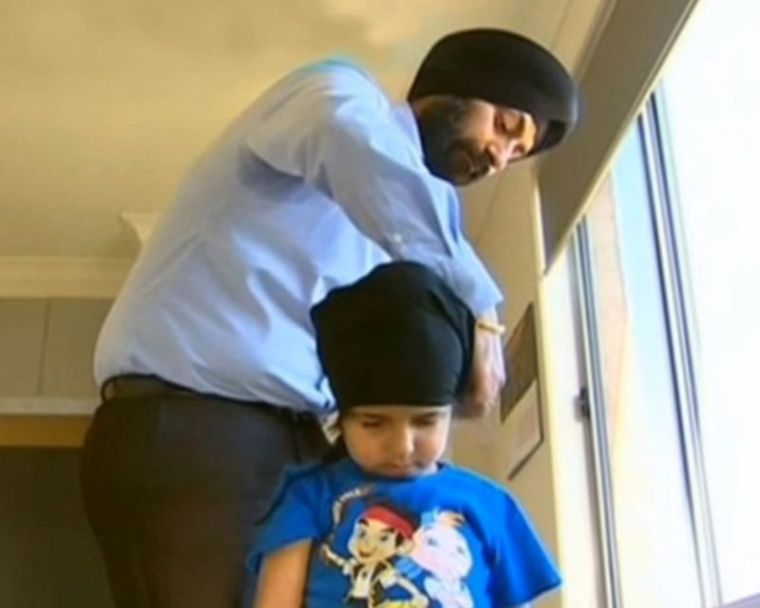 An employment tribunal in Australia has ruled that a Christian school's uniform policy is discriminatory because it would prevent a Sikh boy's application from being accepted since he wears a religious head covering.
The Victorian Civil and Administrative Tribunal ruled in favor of 5-year-old Sikh child Sidhak Singh Arora and his father, who sued Melton Christian School in Melbourne after administrators were accused of refusing to accept the child into the school in 2016 if he wore a patka, a head covering worn by young children who can't wear a turban.
Arora has never cut his hair and wears a parka in accordance to his family's faith.
According to the Australian Associated Press, tribunal member Julie Grainer ruled on Tuesday that the school violated the Equal Opportunity Act, which, among other things, prohibits discrimination on the basis of religious conviction.
"Whilst MCC is a Christian school, it has an open enrollment policy which means that it accepts enrollments of students from other faiths," Grainer ruled.
She continued by stating that "a little over 50 percent of the school community does not identify explicitly as Christian and many families at the school have no religious beliefs."
"It is not reasonable to accept enrolment applications from students from non-Christian faiths only on the condition that they do not look like they practice a non-Christian religion," Grainer asserted, according to AAP.
The Australian Broadcasting Corporation reports that Grainer stated that the only reason the child wasn't enrolled in the school was "because of his religious belief that he should have uncut hair and his religious activity, being not cutting his hair and wearing a patka, which prevented him from being able to comply with the uniform policy."
Grainer stated that the school should have changed its uniform policy to accommodate the child's convictions and urged both sides to come to an agreement.
"I consider that MCC's uniform policy, in so far as it prohibits head gear of a non-Christian faith, could be described as 'openly discriminatory,'" ABC quoted the VCAT finding as stating.
Although the child's family claims that the school had informed them that the application would be rejected, ABC notes that the school maintains that it was the child's parents who withdrew their son's application to the school.
Metlon Principal David Gleeson told ABC that the school would respect the tribunal's finding.
"The school has always endeavored to comply with legislation in relation to discrimination," Gleeson explained. "We had thought that we were acting in accordance with the law, and so we respect the finding of VCAT."
The civil rights group United Sikhs issued a statement praising the ruling.
"On behalf of the Sikh community of Victoria, Australia, we welcome VCAT's decision that the Melton Christian College had violated the Equal Opportunity Act 2010 by indirectly discriminating against 5-year-old Sidhak Singh, when the school refused to enrol him because he wears a patka, a head wear worn by Sikh children," the statement posted to Facebook reads. "We are very pleased that religious freedom, as protected by the Victorian Charter of Human Rights and Responsibilities and Equal Opportunity Act, is alive in Victoria. We look forward to sitting down with the MCC to find an amicable resolution, as ordered by VCAT."
The tribunal's decision has also been considered a precedential ruling regarding exemptions to the Equal Opportunity Act by the Victorian Equal Opportunity and Human Rights Commission.
"VCAT's decision shows that all schools must ensure their uniform policies are not discriminatory," commissioner Kristen Hilton was quoted as saying.