Christian Soccer Star Refused to Play for Team USA Because of LGBT Pride Jerseys
Defender Says She Was 'Obedient' to God and Did the 'Right Thing'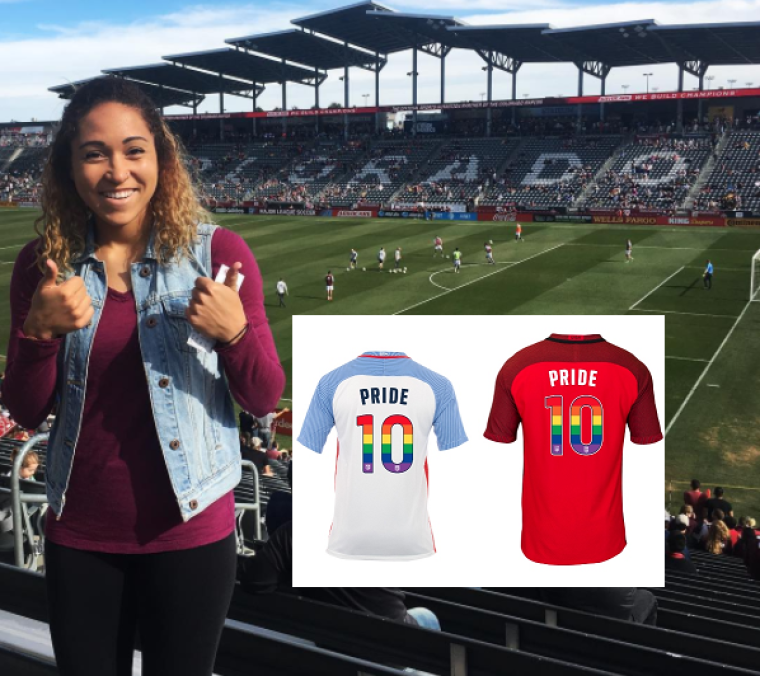 Christian soccer star Jaelene Hinkle has confirmed that she withdrew from the United States Women's National Team last year to "be obedient" to God after the team announced it would wear LGBT Pride jerseys in international matches.
As reported last June, the then 24-year-old Hinkle withdrew from the U.S. roster over "personal reasons" after she was called on to play international exhibition games against Sweden and Norway.
Her withdrawal came two weeks after it was announced that both the U.S. men's and women's national teams would wear rainbow-colored jerseys in support of LGBT pride month.
It was speculated at the time that the North Carolina Courage defender withdrew herself from the team because of her Christian faith and convictions on issues of sexuality and marriage.
In an interview Wednesday with the Christian Broadcasting Network's "The 700 Club," she revealed that her decision not to play for the team came after days of seeking guidance from God.
"I just felt so convicted in my spirit that it wasn't my job to wear this jersey," Hinkle said. "I gave myself three days to just seek and pray and determine what [God] was asking me to do in this situation. ... I knew in my spirit I was doing the right thing. I knew I was being obedient."
Hinkle explained that it was almost like an "out-of-body experience" when she was invited to play for the women's national team and said that she was excited to wear the emblem of the U.S. flag on her chest.
But after it was announced that the team jersey was designed to honor the LGBT community, she knew she had a tough decision — chase her dream or obey her God and convictions.
"I am essentially giving up the one dream that little girl's dream about their entire life and I am saying no to [it]," she explained. "It was very disappointing."
However, she assured that an inner "peace" has "trumped the disappointment."
"I knew in my spirit I was doing the right thing," Hinkle said. "I knew that I was being obedient. Just because you are obedient doesn't make it easy."
Hinkle stressed that despite the disappointment, she doesn't question God's plan for her life.
"I don't question His goodness. I know He is good. I know He is faithful. If I don't get a national team [invite] again, that is part of His plan and that is OK,' she said. "Maybe this was why [I] was meant to play soccer."
Hinkle was raised in a Christian home in Colorado and committed her life to Christ at the age of 12, according to CBN. In the interview with CBN, she recounted the struggles she had going to school and playing at Texas Tech and maintaining a healthy church life.
Hinkle has not been afraid to let her voice be heard on issues pertaining to marriage and sexuality.
In June 2015 on the day that the U.S. Supreme Court ruled to make same-sex marriage a national right, Hinkle shared a post on her Instagram page in which she converted a Human Rights Campaign gay equality flag into a cross.
"Jesus didn't come to save those who already believed in Him. He came so that the lost, rejected, and abandoned men and women would find Him and believe," she wrote. "I believe with every fiber in my body that what was written 2,000 years ago in the Bible is undoubtedly true. It's not a fictional book. It's not a pick and choose what you want to believe. You either believe it, or you don't. This world may change, but Christ and His Word NEVER will."