Christian Thinkers Blast Theologian Wayne Grudem for Defense of Donald Trump as 'Morally Good Choice'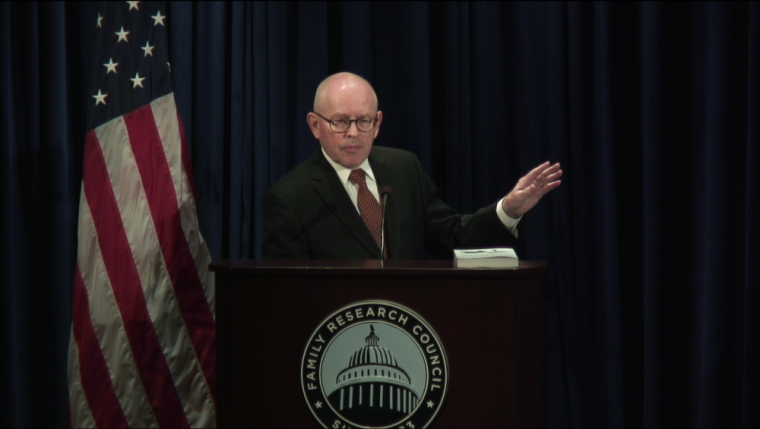 Several notable Christian and conservative commentators are pushing back against renowned theologian Wayne Grudem, whose 5,300-word defense of Donald Trump has gone viral, with some saying the move justifies a "wicked deed."
Because of the theological weight Grudem carries in the evangelical world — he is a professor of theology and biblical studies at Phoenix Seminary and served as the general editor of the English Standard Version Study Bible — some see this as particularly egregious in light of the Republican presidential nominee's public mockery of a Muslim family whose son was killed in combat in Iraq.
Responses have been numerous and strongly-worded.
In an interview Tuesday with The Christian Post, Ethics and Public Policy Center Senior Fellow Peter Wehner, an ardent #neverTrump advocate, said some of Grudem's arguments were "just silly."
"I'm not sure why anyone's conscience and moral judgment would compel them to vote for such a man, or defend him in the ways Grudem has," Wehner said.
"Anyone who says Donald Trump is a 'morally good choice' is, at a minimum, morally confused. Using the phrase 'a morally good choice' is a very peculiar formulation when it comes to describing Trump on anything."
Wehner further added that "this is certainly a disorienting moment in our political life, with a lot being revealed. What wasn't revealed in the Grudem piece were persuasive arguments. They were the arguments of a man desperate to justify his vote for a man who isn't deserving of it."
Grudem's lengthy essay, "Why Voting for Donald Trump Is a Morally Good Choice," (Part 1 here and Part 2 here) was posted on CP's homepage Saturday and Sunday. He lists Trump's flaws but expresses disagreement with many of his friends who say that character issues disqualify him for the presidency.
Such defenses are "eerily familiar to the excuses given by an abused wife," wrote The Resurgent's Phillip Swicegood in a Monday post.
Grudem intoned, "I doubt that many 'I can't vote for Trump' Christians have understood what an entirely different nation would result from Hillary Clinton as president, or have analyzed in detail how different a Trump presidency would be" urging them to "seek the good of the nation" because Trump's policies are better for the country.
Writing in the National Review, David French — who briefly considered an independent presidential run — said he admires Grudem but that he has made a bad case, adding that his words start out honest but quickly "move into fantasy-land."
Conservative philosopher and First Things contributor John Mark Reynolds implored Grudem to reverse course.
"Donald J. Trump is not a normal presidential candidate and professor Grudem defining him as such is a failure," Reynolds said Saturday on his Patheos blog.
"Just as saying a kind word for Mussolini is a perpetual shame to GK Chesterton, so in the same way, advocating for Trump will tar Grudem. I beg him to retract it or he will lose the moral authority to comment on politics for the rest of his life. Trump is that bad," Reynolds continued.
Baylor University history professor Thomas Kidd also disagreed with Grudem, saying that this election represents a "hinge moment" for American evangelical Christians.
"Will we show that we are willing to break with the GOP over matters of conscience, or that we are just errand boys for the Republican Party?"
CP asked Kidd if the distaste for Clinton is so strong and is driving the evangelical support so much, that even its heavyweights like Grudem now back Donald Trump; and, if Tim Kaine or Bernie Sanders were the nominee would this still be the case?
"I doubt that they would take a different position if the nominee were Kaine or Sanders, because those candidates seem to have the same basic positions on issues such as abortion. At least with Kaine and Sanders, however, you do not have the besetting, ongoing problems with dishonesty that Clinton has," Kidd replied in an email.
Wayne Grudem is a research professor of theology and biblical studies at Phoenix Seminary and is the author of the highly-influential, best-selling textbook Systematic Theology: An Introduction to Biblical Theology. He endorsed Senator Marco Rubio during the Republican primaries.