Why Voting for Donald Trump Is a Morally Good Choice (Part 1)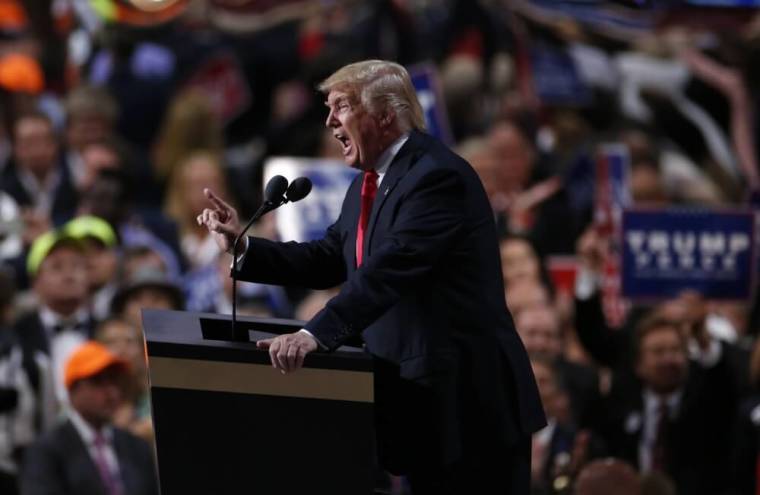 Some of my Christian friends tell me they can't in good conscience vote for Donald Trump because, when faced with a choice between "the lesser of two evils," the morally right thing is to choose neither one. They recommend voting for a third-party or write-in candidate.
As a professor who has taught Christian ethics for 39 years, I think their analysis is incorrect. Now that Trump has won the GOP nomination, I think voting for Trump is a morally good choice.
American citizens need patience with each other in this difficult political season. Close friends are inevitably going to make different decisions about the election. We still need to respect each other and thank God that we live in a democracy with freedom to differ about politics. And we need to keep talking with each other – because democracies function best when thoughtful citizens can calmly and patiently dialogue about the reasons for their differences. This is my contribution to that discussion.
A good candidate with flaws
I do not think that voting for Donald Trump is a morally evil choice because there is nothing morally wrong with voting for a flawed candidate if you think he will do more good for the nation than his opponent. In fact, it is the morally right thing to do.
I did not support Trump in the primary season. I even spoke against him at a pastors' conference in February. But now I plan to vote for him. I do not think it is right to call him an "evil candidate." I think rather he is a good candidate with flaws.
He is egotistical, bombastic, and brash. He often lacks nuance in his statements. Sometimes he blurts out mistaken ideas (such as bombing the families of terrorists) that he later must abandon. He insults people. He can be vindictive when people attack him. He has been slow to disown and rebuke the wrongful words and actions of some angry fringe supporters. He has been married three times and claims to have been unfaithful in his marriages. These are certainly flaws, but I don't think they are disqualifying flaws in this election.
On the other hand, I think some of the accusations hurled against him are unjustified. His many years of business conduct show that he is not racist or anti-(legal) immigrant or anti-Semitic or misogynistic – I think these are unjust magnifications by a hostile press exaggerating some careless statements he has made. I think he is deeply patriotic and sincerely wants the best for the country. He has been an unusually successful problem solver in business. He has raised remarkable children. Many who have known him personally speak highly of his kindness, thoughtfulness, and generosity. But the main reason I call him "a good candidate with flaws" is that I think most of the policies he supports are those that will do the most good for the nation.
Seek the good of the nation
Should Christians even try to influence elections at all? Yes, definitely. The apostle Peter says Christians are "exiles" on this earth (1 Peter 1:1). Therefore I take seriously the prophet Jeremiah's exhortation to the Jewish people living in exile in Babylon:
"Seek the welfare of the city where I have sent you into exile, and pray to the LORD on its behalf, for in its welfare you will find your welfare" (Jeremiah 29:7).
By way of modern application, I think Christians today have a similar obligation to vote in such a way that will "seek the welfare" of the United States. Therefore the one overriding question to ask is this: Which vote is most likely to bring the best results for the nation?
If this election is close (which seems likely), then if someone votes for a write-in candidate instead of voting for Trump, this action will directly help Hillary Clinton, because she will need one less vote to win. Therefore the question that Christians should ask is this: Can I in good conscience act in a way that helps a liberal like Hillary Clinton win the presidency?
Under President Obama, a liberal federal government has seized more and more control over our lives. But this can change. This year we have an unusual opportunity to defeat Hillary Clinton and the pro-abortion, pro-gender-confusion, anti-religious liberty, tax-and-spend, big government liberalism that she champions. I believe that defeating that kind of liberalism would be a morally right action. Therefore I feel the force of the words of James: "Whoever knows the right thing to do and fails to do it, for him it is sin" (James 4:17).
Some may feel it is easier just to stay away from this messy Trump-Clinton election, and perhaps not even vote. But the teachings of Scripture do not allow us to escape moral responsibility by saying that we decided to do nothing. The prophet Obadiah rebuked the people of the Edom for standing by and doing nothing to help when the Babylonians conquered Jerusalem: "On the day that you stood aloof, on the day that . . . foreigners entered his gates and cast lots for Jerusalem, you were like one of them." (Obadiah 1:11).
I am writing this article because I doubt that many "I can't vote for Trump" Christians have understood what an entirely different nation would result from Hillary Clinton as president, or have analyzed in detail how different a Trump presidency would be. In what follows, I will compare the results we could expect from a Clinton presidency with what we could expect from a Trump presidency.
The Supreme Court with Clinton as president
Hillary Clinton would quickly replace Justice Scalia with another liberal like Breyer, Ginsburg, Sotomayor, and Kagan. This would give liberals a 5-4 majority on the Supreme Court even without Justice Kennedy, and 6-3 when he votes with them.
But that is not all. Justice Ginsburg is 83, and she has had colon cancer, pancreatic cancer, and has a heart stent. Justice Kennedy is 80. Justice Breyer is 78. A President Clinton could possibly nominate three or four justices to the Supreme Court, locking in a far-left activist judiciary for perhaps 30 or more years. She could also add dozens of activist judges to federal district courts and courts of appeals, the courts where 99% of federal lawsuits are decided. Judicial tyranny of the type we have seen when abortion rights and same-sex marriage were forced on the nation would gain a permanent triumph.
The nation would no longer be ruled by the people and their elected representatives, but by unelected, unaccountable, activist judges who would dictate from the bench about whatever they were pleased to decree. And there would be nothing in our system of government that anyone could do to stop them.
That is why this election is not just about Hillary Clinton. It is about defeating the far left liberal agenda that any Democratic nominee would champion. Liberal Democrats are now within one Supreme Court justice of their highest goal: gaining permanent control of the nation with a five vote majority on the Supreme Court, and then systematically imposing every liberal policy on the nation not through winning elections but through a relentless parade of one Supreme Court decision after another.
Even if Clinton were to drop out of the race (perhaps due to additional shocking email disclosures, for example), our choice in the election would be just the same, because any other Democratic nominee would appoint the same kind of liberal justices to the Court.
Abortion
On abortion, a liberal court would probably find the ban on partial-birth abortion to be unconstitutional (it was upheld by only a 5-4 majority in Gonzalez v. Carhart, 2007). In addition, the court could find an absolute "right to abortion" in the Equal Protection Clause of the Constitution and then sweep away with one decision most or all of the restrictions on abortion that pro-life advocates worked for tirelessly over the last 43 years, including ultrasound requirements, waiting periods, parental consent requirements, and prohibitions on non-doctors performing abortions.
Voters should not doubt the power of the Supreme Court to abolish all these laws restricting abortions. Think of the power of the Obergefell v. Hodges 5-4 decision in June, 2015. It instantly nullified all the work that thousands of Christians had done over many years in persuading the citizens of 31 states to pass constitutional amendments defining marriage as the union of one man and one woman. But no one is campaigning for such laws or amendments anymore, because it would be futile. The Supreme Court has spoken, and therefore the issue is settled in the political system of the United States. We lost – not at the ballot box, but because we had a liberal Supreme Court that nullified the democratic process regarding the definition of marriage.
Dr. Wayne Grudem is the author of over 20 books, including the best-selling theology textbook, Systematic Theology. He is a celebrated professor and a past president of the Evangelical Theological Society.