Christian counseling website run by Mike Johnson's wife taken down after HuffPost report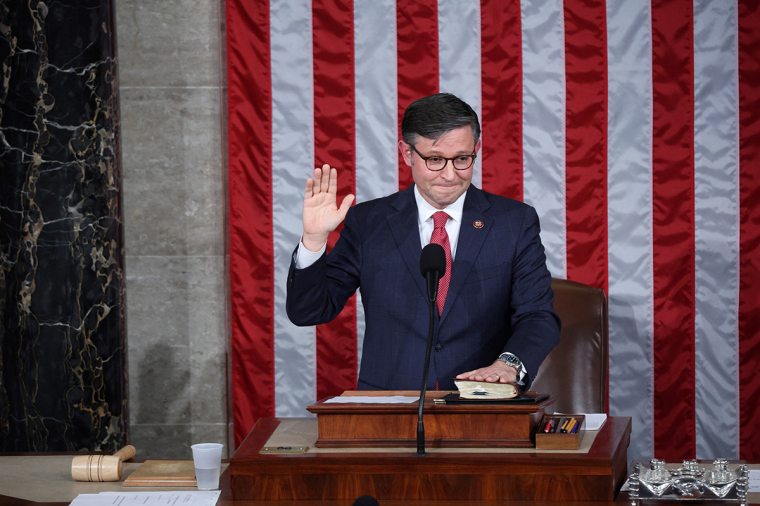 A new report maintains that the wife of House Speaker Mike Johnson, R-La., has deleted her counseling website outlining biblical positions on marriage as a result of the criticism directed at her husband's views. 
Johnson's Southern Baptist views have become the subject of much media coverage since he was elected last week, with The Huffington Post reporting Friday that his wife, Kelly, operates Onward Christian Counseling Services.
The liberal publication included a copy of her company's operating agreement, which includes a statement of faith.
The statement of faith includes beliefs about marriage and sexuality, namely that marriage amounts to a relationship between "one man and one woman in a single, exclusive union, as delineated in Scripture." It also states that "any form of sexual immorality, such as adultery, fornication, homosexuality, bisexual conduct, bestiality, incest, pornography or any attempt to change one's sex, or disagreement with one's biological sex, is sinful and offensive to God."
On Monday, HuffPost reported that the website for Onward Christian Counseling had been taken offline following Friday's report.
According to the Internet Archive's Wayback Machine, which contains captures of webpages as they have appeared over time, the link to the website was live on Oct. 26, one day before the HuffPost report was initially published.
A link to the website captured on Oct. 28, one day after the report was published, redirects to a page reading in part, "Looks like this domain isn't connected to a website yet."
The site remains offline nearly a week later.
The Wayback Machine reveals that one portion of the website, which formerly contained episodes of a podcast hosted by the now-speaker and his wife, was offline as of Thursday night, as was the section of the website devoted to new clients.
The website did not appear to have any references to the statement of faith pertaining to "sexual immorality," although it did repeatedly note the Christian counseling center's adherence to biblical principles.
Speaker Johnson addressed the criticism directed at his Christian faith by the media over the past week in an interview with Fox News.
Before airing the interview on "Outnumbered" Tuesday, host Kayleigh McEnany shared a video clip of "Real Time" host Bill Maher, noting how news reports suggested that the perpetrator behind a mass shooting in Maine last week "heard voices."
Maher then added, "I thought, is he that different than Mike Johnson?" The comedian's remark suggested that communication with Jesus amounts to a mental illness. 
After the crowd on the HBO program erupted into laughter, Maher clarified that there was a difference in "degree" between the two men while contending that "it's thinner than you think."
Former White House Press Secretary Jen Psaki, who now has her own show on MSNBC, also weighed in on Johnson's faith by declaring, "The Bible doesn't just inform his worldview, it is his worldview."
"In fact, during his first speech in his new job, Johnson suggested that his election as speaker was an act of God," Psaki quipped. She characterized his policy positions as "essentially what you'd expect from a religious fundamentalist; they're more divisive than they are divine." 
McEnany asked Johnson to weigh in on additional comments made by members of the media about his faith, including a historian who described the speaker as a "Christian nationalist" who sympathizes with "Christian supremacy" to Politico.
He told McEnany that he viewed the comments about his faith as reflective of "entire industries that are built to take down the public leaders, effective political leaders like me."
"I'm not surprised by that. … It comes with the territory. It doesn't bother me at all," he said. "I just wish they would get to know me. I'm not trying to establish Christianity as the national religion or something. That's not what this is about at all." 
"If you truly believe in the Bible's commands and you seek to follow those, it is impossible to be a hateful person because the greatest command in the Bible is that you love God with everything you have and you love your neighbor as yourself," he continued. 
When pressed for his reaction to The Daily Beast labeling him a "Christo-Fascist" with a "desire to institutionalize [his] faith" like "the Taliban and the Mullahs in Iran" and Maher likening him to the Maine mass shooter, Johnson replied, "it's just disgusting." 
"That is absurd. Of course, our religion is based on love and acceptance, so to compare that worldview with the Taliban who seek to destroy their enemies or with some deranged shooter who murders people is absolutely outrageous," he proclaimed. "I think everyone who follows and believes in a Judeo-Christian worldview should be just terribly offended by that. I'm OK, I'll take the arrows. I understand it comes with leadership, and when you step into the fray, that's what you take." 
Johnson lamented the remarks directed at him as "a statement about everyone who believes in this." He identified Judeo-Christian beliefs as what "the country was built upon."
"Our enemy is like Hamas and terrorists and tyrants who want to do great harm to our country. Someone who's on the other side of the aisle is a fellow elected representative of the greatest deliberative body in the world, and they should be treated as such," Johnson said. "And even if they have crazy ideas sometimes … part of the process is that I will be willing to engage with them in a dialogue to forge consensus that will move the ball forward for the most people."
Last week, the House narrowly voted to make Johnson the new speaker. The vote followed a tumultuous three weeks where several candidates put forth by the Republicans failed to secure the necessary support required to ascend to the top job in the House. Johnson won the support of all Republicans present in the chamber, while Democrat Hakeem Jeffries received support from all voting Democrats.