Christians Exalt Jesus During Atheists' Memphis Convention Where 'God's Not Dead' Film Was Mocked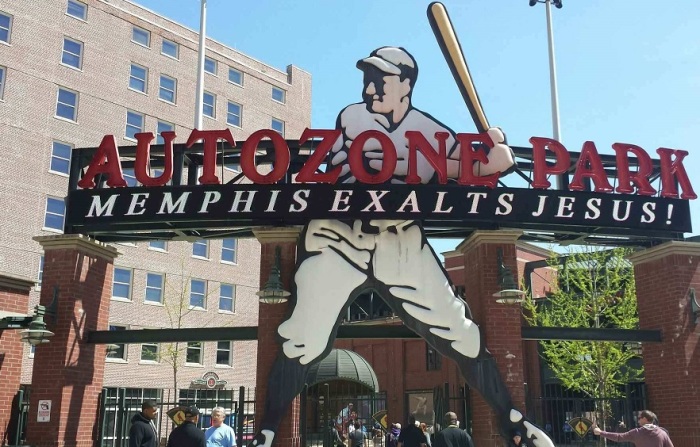 Members of a prominent atheist organization received an unexpected response from Christians during their annual convention this past weekend, as Evangelicals came together not to protest their event, but to sing, pray, and read scriptures together.
Known as "Memphis Exalts Jesus," the Saturday event held at Memphis' AutoZone Park came in response to the American Atheists' multiday convention.
Steve Coplon, an organizer of the Memphis Exalts Jesus event, told The Christian Post that the gathering came about in response to the news that American Atheists was going to have their convention at the Peabody Hotel in Memphis.
"We asked the Lord, should anything occur in light of the atheists convention coming to Memphis. As we prayed we sensed the Lord did not want any demonstrations or protests, but He seemed to stir in our hearts a gathering to focus only on His Son," Coplon said.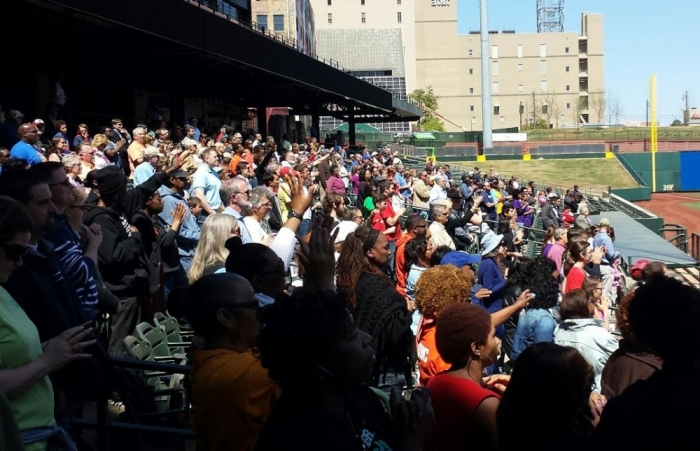 "We had an extended season of fasting and prayer and then found out that others had a similar burden. This led to a coming together of a few hundred to plan the event. Many who came are those who have really been praying for years for the Lord to do something significant in Memphis."
Coplon also told CP that as many as 4,000 attended the Christian event, where people shared their testimonies, and sang and prayed together.
"During all the times of praise and worship, the entire crowd entered in and sang, many lifting up their hands. We also had scripture readings in English, Spanish and Korean," Coplon continued.
"There were exhortations from the Word of God in English and Spanish. There were testimonies (pre-recorded) on the scoreboard that were very encouraging. There were two [designated times held for] prayer, where everyone got together in groups of 10 to 20 and prayed together."
Memphis Exalts Jesus was held as the New Jersey-based group American Atheists conducted their multiday convention.
Beginning last Thursday and concluding Easter Sunday, the annual atheist convention included panels on various topics, a viewing of the film "God's Not Dead" wherein the film was mocked, and an exhibition room featuring various other secular groups.
Ayaan Hirsi Ali, the controversial author and apostate Muslim who was recently disinvited from a Brandeis Univerity graduation commencement speech, was the keynote speaker.
Danielle Muscato, communications manager with American Atheists, told CP that her organization's conventions have several purposes. "They are designed to educate people about atheism, science, politics, current events and philosophy. ... They are designed to empower and support the regional atheist communities in which they are held, and they are our organization's biggest annual fundraiser for the rest of our work throughout the year."
Regarding the Christian gathering held nearby the Peabody, Muscato responded that "people are, of course, welcome to organize their own event and that is their business and their right."
"What concerned me about it was that we always meet attendees who have to sneak out of their houses in order to attend our conventions on account of still being in the closet about their atheism to their own families," Muscato said. "With an event like this scheduled, it would be much harder for atheists to slip away unnoticed if their entire families were planning to attend and closeted atheists were under heavy family pressure to show up at the counter-event together."
"We believe that the Lord allowed the atheists to come here to stir many whose hearts are for the Lord only and for the body of Christ to be one to find each, gather together, and demonstrate the love and unity that is found only in Christ," Coplon added.
"Memphis Exalts Jesus is hopefully a first step in seeing a great spiritual awakening at this dark hour. The Lord used the atheist convention to be a catalyst to bring this about. May He receive all the glory."