Second Atheist Blogger Hacked to Death by Islamic Extremists in Less Than a Month in Bangladesh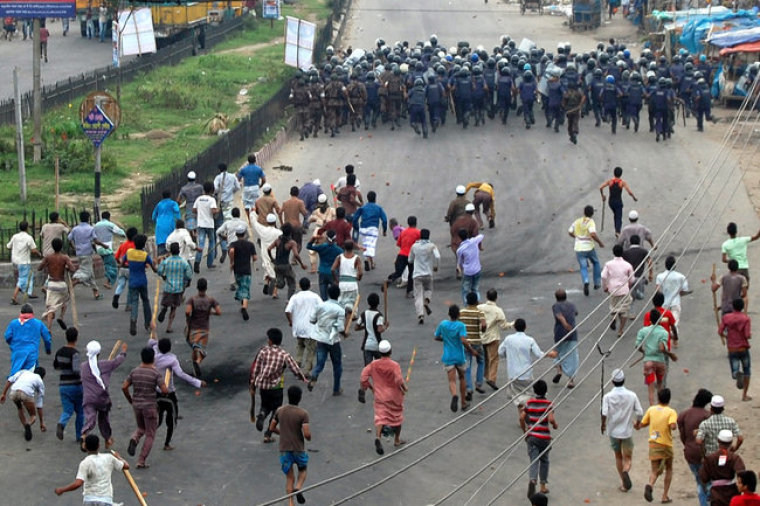 A second atheist blogger has been hacked to death by suspected Islamic extremists in the span of a month in Bangladesh. Twenty-seven year-old Washiqur Rahman was found stabbed to death on Monday in Dhaka, less than a month after American citizen Avijit Roy was killed for promoting secularism and criticizing religious extremism.
Agence France-Presse reported that police have arrested two men suspected to have been involved in Rahman's murder. Local police chief Wahidul Islam revealed that the victim had been "brutally hacked to death this morning with big knives just 500 yards [460 metres] from his home at Dhaka's Begunbari area."
The Guardian noted that there has been some dispute over Rahman's religious beliefs.
Biplob Kumar Sarkar, deputy commissioner of the Dhaka Metropolitan police, suggested that the victim was killed because he followed Islam differently than how extremist groups dictate: "Those who killed him differed on his ideologies about religion. He was not an atheist. He was a believer. But the way he followed religion was different from the way radical groups insist," he said.
A personal friend of Rahman, identified as Tamanna Setu, stated that the victim was an atheist, however.
"He used to write a satirical column on Facebook against believers. He was an atheist. His killing has to be connected to his writing," Setui said.
Imran Sarker, head of the Blogger and Online Activists Network in Bangladesh, called Rahman a "free-thinker" who used to write "against religious fundamentalism."
The Dhaka Tribune reported that Rahman was a member of eight Facebook groups, including one called Atheist Bangladesh.
There have been a number of attacks on atheists and other religious minorities in Bangladesh in recent years.
U.S. citizen Roy was killed by a "knife-wielding mob" in Dhaka late in February, also from criticizing religious extremism online.
"Avijit Roy has been killed the way other free thinker writers were killed in Bangladesh. No freethinker is safe in Bangladesh," blogger Taslima Nasreen said about the murder.
"Islamic terrorists can do whatever they like. They can kill people with no qualms whatsoever."
International development consultant Rory Fenton echoed those views in an article for The Independent following Rahman's murder.
"This weekend I arrived in Bangladesh with the naïve hope of writing about wide-eyed idealists fighting the fight no matter what, fueled with the zeal of Je Suis Charlie. The reality on the ground is much harsher: atheists are being hunted down for both religious retribution and political gain," Fenton wrote.
"Washiqur Rahman was right: words cannot be killed. But a struggling movement can only take so much battering, and Bangladeshi atheism is fighting to survive."