Christians from India, Nigeria and Iraq detail the persecution their communities face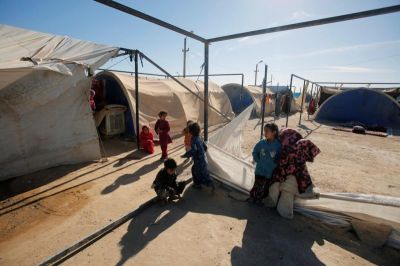 Fr. Daniel: Iraq
Growing up in a suburb of Baghdad, Daniel knew from an early age what it meant to live as a Christian in Iraq.
He told CP about the time when he was 7 years old and the first friend he made at school began ignoring him. The reason? Because his Muslim father told him never to speak to Christians.
But the persecution that Daniel and his family experienced escalated in 2003 when President Saddam Hussein was taken out of power thanks to the U.S. invasion. From that point on, Daniel said, terrorist groups like al-Qaeda stepped up their targeting of Iraqi Christians.
On his 16th birthday, Daniel and his family received a death threat and were given just 24 hours to leave town.
"They threatened and blackmailed Christians and kidnapped some," Daniel recalled.  "My family was one of the families that received the kill threat from al-Qaeda. We needed to leave in 24 hours or else we were going to be killed. Instead of spending time with cake and a gift, I was crying while looking for a safe place for my family."
Fast forward to today, Daniel now serves as a priest with the Ancient Church of the East in Erbil and Kirkuk. His church was responsible for housing 1,600 Christians who fled the Nineveh Plains of Iraq in 2014 due to the invasion by the Islamic State.
"They didn't have any place to go so they stayed in my church for more than two to three years," Daniel explained.  "After the liberation of Mosul, they had the chance to go back. But their houses were burnt and their churches were destroyed. So they didn't have any place to go. The church started the process of rebuilding the house and the churches."
The work to restore the damage caused by IS is a tall task.
According to Daniel, there were over 313,000 houses in need of repair following the liberation of the region in 2017. So far, over 5,000 homes have been repaired. However, much of the utilities still need to be restored.
"The central government is not really serious about rebuilding these cities and towns," Daniel said of the Christian communities.  "We do have questions for the government. What are they waiting on? If they really want the Christians to stay, they need to really take some actions to empower the existence of Christianity in Iraq and take care of them."
Daniel said that over 120,000 Christians fled from the Nineveh Plains in 2014. So far, just 45 percent have returned. Many of those who haven't returned are thinking about migrating from the region.
"They are thinking they are not welcome or that they do not have any rights," Daniel said.  "They think that if they leave, they will have a chance to be educated. They may have a good opportunity to work. But in their own country, they don't have these things. They feel like their country doesn't want them anymore. There are big fears that Iraq is going to be without the Christians one day."
Iraq ranks as the 13th worst country in the world for Christian persecution, according to Open Doors.