Christians from India, Nigeria and Iraq detail the persecution their communities face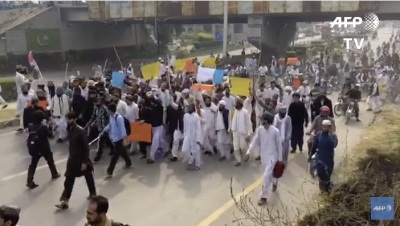 South Asia: Hannah
Much like Father Daniel, Hannah also faced a social stigma for her family's faith in Christ at a young age.
"Persecution starts on the very first day that you go to school and you are known to be Christian. Nobody wants to share space with you," the young lady explained. "You become aware as a 4-year old of what you say and who you say it to and who you sit with and who you are going to trust."
The persecution Hannah faced as a female Christian continued all through primary school, secondary school and eventually into university and the workplace.
"I have been ridiculed many times and questioned and put into a position where you are forced to say something that could be considered as blasphemy," she explained. "You have an answer but if you say it that equals an insult to the majority faith. So you are then insulted for being stupid for not having answers. You have to pick the battles that you fight."
Hannah said she has had her books stolen, her uniform trashed and her homework destroyed.
"That is the story of millions of Christian children in countries like Pakistan, Afghanistan or Iran," she said.
Hannah said that her family members live in a place where if anyone were to find out that they were meeting for worship or to pray, they would be flogged or thrown out of their towns.
"There is a wide spectrum of persecution. It goes from school even to when you go to get jobs for employment," she said. "The reason behind persecution is the same. They say: 'We don't want Christians in South Asia.' It is that narrative that the Islamic State and Taliban are propagating that: 'This is an Islamic territory and we will claim it for Islam.'"
Hannah and her family have seen all types of persecution. She said that some have even "practiced witchcraft and the occult" against her family because of their Christian faith.
"In the midst of this, our prayer is that God will keep our hearts tender so that we can learn to forgive every single day," she said.