Christians in Egypt Apprehensive as Islamists Win Majority of Votes
On Sunday, Coptic Christians in Egypt remained apprehensive as the country's historic parliamentary polls unfolded, revealing that 65 percent of voters had chosen Islamist parties.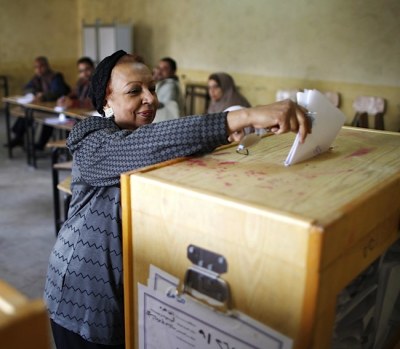 The Copts are the largest Christian community in the Middle East and make up one in ten of all Egyptians. They are fearful of what an Islamist landslide in Egypt's election will mean for them. In fact, since the toppling of Mubarak from power in February, 100,000 Christian families have emigrated abroad.
It had been widely expected that the Muslim Brotherhood's Freedom and Justice Party would dominate the elections.
Voice of America says the Muslim Brotherhood's Freedom and Justice party garnered 36.6 percent of votes, the hardline Salafist Nour party captured 24.4 percent of the vote, the moderate Islamist Wasat party took 4.3 percent, and the liberal Egyptian Bloc received 13.4 percent.
Although Christians and parishioners of other minority religions are free to practice in Egypt, the interpretation of Islam has become stricter over the past three decades, marginalizing minority religious groups.
According to the AFP, 42-year-old engineer Girgi Szaki, who has two children said, "All Coptics are very worried. We didn't expect this. We wanted some liberals to be elected. In the other stages, maybe there'll be a change."
Eman Seif, a 53-year-old doctor, also told the AFP, "A lot of Christians are now saying that the Mubarak era was better than now, but I don't agree. We were surprised but we are still optimistic. This is democracy now and this is the real opinion of Egyptians. The secular section is still fighting."
Sunday's election results are only for the first of three phases of voting for a new lower parliamentary house. The next rounds of voting will take place later this month and in January. The entire election process will not be completed until March.
Islamist Victories in Egyptian Election Cause Concern for Christians