TD Jakes, black Christians mourn passing of iconic woman preacher Iona Locke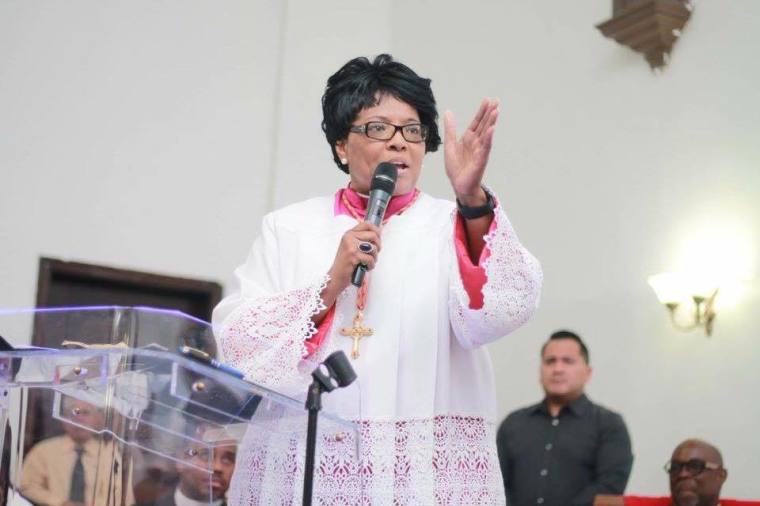 "If you black and in church you know her," popular online media personality and former pastor, Larry Reid, declared to his audience as he processed the passing of iconic woman preacher and gospel singer, Bishop Iona Locke, on Friday. She was 72.
Family spokesperson Carolyn D. Showell said in a statement on Locke's Facebook page that the charismatic Pentecostal leader known for her distinctive style of singing and preaching that commanded unwavering attention, died "after a season of sickness." She did not share her cause of death and Locke's church did not immediately respond to a request for further comment Tuesday.
"It is with great sadness and a heavy heart that the Locke Family, Christ Centered Ministries Assembly and the Abyssinia Christ Centered Ministries announce the Episcopal Transition of Her Grace, Presiding Bishop Iona E. Locke. After a season of sickness, God has granted her eternal rest. We rejoice in the confident knowledge that she is at peace with her God," Showell said of the founder of Abyssinia Christ Centered Ministries in Michigan. "As a General in the Lord's Church, the dimensions of her assignment have made a sound in this earth that will travel dispensationally through time until we all meet again around God's throne."
A representative of the Pentecostal Assemblies of the World, which Locke was once affiliated, said her death was being mourned globally.
"She was well-known and well loved. … I can speak personally that we are saddened by her loss and we also rejoice that to be absent from the body is to be present with the Lord. So on one hand we grieve, on the other hand we rejoice," the representative told The Christian Post on Tuesday.
The Pittsburgh-born Locke is reportedly the first Pentecostal preacher to have had her sermons distributed on compact disc through a deal with Intersound Records in 1993 which included messages like "What Kind of Fool Are You?" and "Let's Get It On."
"We have lost one of the most prolific preachers who changed the context and substance of preaching worldwide…. Man this a gut punch. Pray for her entire natural and spiritual family," Reid said.
T.D. Jakes, who leads The Potter's House megachurch headquartered in Dallas, Texas, called Locke "one of the greatest orators I had ever witnessed" in an extended tribute on Instagram.
"Growing up as a young man, one of the most unforgettable experiences of my life was to hear Dr. Iona Locke preach the Gospel. She was a young girl, a child prodigy, one of the greatest orators I had ever witnessed. Her voice was distinctive, her singing anointed, her prophesy spellbinding and her boldness unrivaled. Tonight, she's wrapped in the mantle of the episcopal, chartered away from this cold world in chariots of fire like Elijah! She has slipped beyond the veil," he wrote in part. "Some would say, she was an amazing female preacher. But, gender had nothing to do with the glory that rested on her. Few men or women wanted to grab a mic she dropped."
Renowned gospel music composer and performer, Kurt Carr, recalled in a statement Sunday how Locke, who he came to know as a "friend," showed him generosity before she even knew him.
"Bishop Iona Locke was a brilliant and tremendously gifted preacher. I'm so grateful to have experienced her preaching, but I also had the blessing of her friendship," he said.
"Once I was in Detroit and needed a place to rehearse. At [that] point in life, we had actually never met before. But, she graciously opened her church's doors and said stay as long as you want. When I arrived, she asked if she could lay her hands on me. Then she began to pray. When she finished praying, she said God is going to use you to create something great for His Kingdom, son. That's the day God blessed me to compose 'The Presence of The Lord is Here!'" he wrote. "Thank you Dr. Locke for your prayers and for your amazing ministry! Claim your reward that is great in Heaven. WELL DONE, my sister, WELL DONE!"
In what appears to be one of her last virtual public appearances in August, Locke exhorted Christians to "let brotherly love continue."
Many black female ministry workers like Juandolyn Stokes of Juandolyn Stokes Ministries wrote in a statement on Facebook that Locke was their inspiration.
"Growing up, every child has a superhero, whether a fictional character in a book or a superhero in a movie. As we continue growing it often develops into a real person — whether a professional athlete, or someone who has made amazing inventions in fields where our passions lay. As we grow up, we shift to seek out mentors who we look to for guidance, accountability, correction, and inspiration, and often when we are blessed, we get to meet them, and if even more blessed, we get to work alongside them," Stokes began.
"As a young girl, anointed by God to deliver His Word, my choices of female mentors in the Gospel were few and far in between because acceptance that God could speak through us was slow to occur. Bishop Iona Locke produced a sound in the Earth that is rare. It was deeply rooted in faith that God was her all, it carried a raspy edge that when heard, you knew she had been laboring in prayer and supplication before the throne.

"To know her and have the opportunity to sit under her tutelage was extraordinary. She challenged me and held me accountable in my responsibility as a leader and laborer for the Kingdom. To be able to call her my pastor and covering is a true gift from God and I will forever be grateful," she ended.