Christians Should Not Take Sides in Israel-Palestine Conflict but Promote Reconciliation, Ministry Director Suggests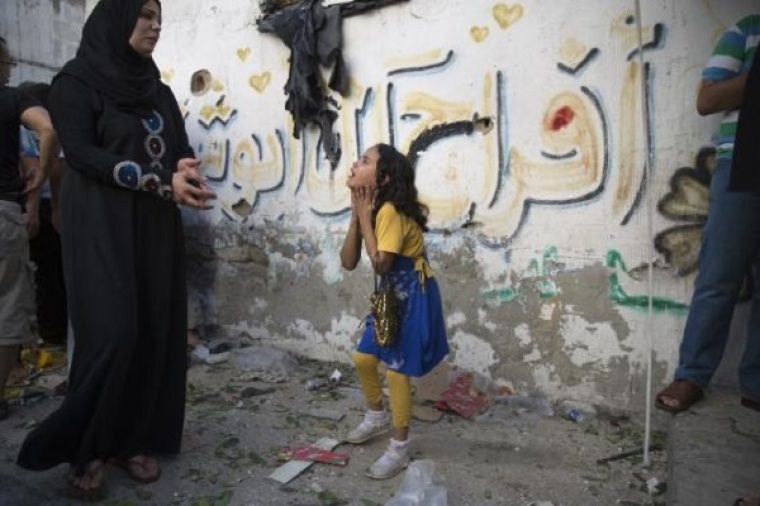 The ministry director of a group working to bring Israelis and Palestinians together has urged Christians not to take sides in the current conflict, but follow Jesus' example and promote reconciliation.
"Christians around the world can help promote reconciliation by remembering and encouraging us to remember the central figure of our faith, Jesus. We need to focus on His example as a peacemaker, as He called us to be at peace with God and each other," Salim J. Munayer, the director and founder of Musalaha Ministry of Reconciliation, told The Christian Post in an email interview on Monday.
"Instead of taking sides in our conflict, as many outside voices do, Christians should play the role of a bridge, and call us to follow Jesus' example, and His teachings."
Over 1,110 Palestinians have died in the war between Israel and militant group Hamas, which has stretched for three weeks. At least 30 people were killed in an Israeli air strike on Gaza on Tuesday, with Israeli Prime Minister Benjamin Netanyahu warning that the violent conflict could continue for a long time.
Netanyahu said in a TV address on Monday night that Hamas, which has continued firing rockets into Israel, would need to stop its hostile activities before a solution to the crisis can be found.
"We will not finish the mission, we will not finish the operation without neutralizing the tunnels, which have the sole purpose of destroying our citizens, killing our children," Netanyahu said, according to Al Jazeera News.
"We need to be prepared for a protracted campaign. We will continue to act with force and discretion until our mission is accomplished," he added.
Hamas has said that it will not consider peace until an economic blockade is lifted from Gaza, which it says has further escalated tensions and created a harsh living environment for Palestinians.
U.S. President Barack Obama has backed Israel's right to defend itself from militant threats, but expressed concern at the mounting civilian casualties in Gaza.
"The President underscored the United States' strong condemnation of Hamas' rocket and tunnel attacks against Israel and reaffirmed Israel's right to defend itself. The President also reiterated the United States' serious and growing concern about the rising number of Palestinian civilian deaths and the loss of Israeli lives, as well as the worsening humanitarian situation in Gaza," a readout of a phone call between Obama and Netanyahu said.
Musalaha Ministry, a NGO which has been working on facilitating peace in the region since 1990, explains that its vision and hope is that by "listening to one another, in understanding each other's backgrounds and identity, in seeking forgiveness and to forgive, Palestinians and Israelis will build relationships that reflect their faith and bring glory to God and peace to this Land."
Munayer, a Palestinian-Israeli with a PhD from the Oxford Center of Mission Studies in the U.K., has published several books on reconciliation, the Israeli-Palestinian conflict, and Christians in Israel and the Palestinian Authority.
In one of Musalaha's publications looking at the obstacles toward reconciliation, Munayer writes that such obstacles can be physical, ideological, emotional, or psychological, and they can often overlap. He adds that these obstacles can be "shocking" for someone who is not very familiar with Israeli-Palestinian relationships, but says that they need to be overcome.
"At the end of the day, the greatest obstacle is that we harden our hearts toward one another," Munayer told CP. "There is a lot of hatred and animosity in our societies right now, and it is very polarizing as it pushes people farther apart, and makes it emotionally and physically more difficult to meet."
Musalaha's director, who served as academic dean of Bethlehem Bible College from 1989 to 2008, and continues to serve as a professor at the college, said that there are practical ways of achieving peace in the region, but a lack of willingness.
"I am not talking about a perfect peace, but it is possible to move from a violent direction and instead turn our course toward building trust and peace. Our leaders know what is required to do so, but they are unwilling. Our populations are likewise unwilling at the present," he suggested.
The ministry says that it organizes children's camps, youth trips, young adults trips, women's meetings, young leaders and community leaders' seminars, among other activities that take steps at the grassroots level "to move from an intractable conflict to reconciliation."
Musalaha has also developed a curriculum of reconciliation, and leads groups out into the desert as a way to foster genuine engagement in reconciliation.
"The desert has proven very effective in overcoming initial hesitations to genuine engagement in reconciliation as the desert provides the space for the forging of deep relationships and meaningful connections in a short period of time," Munayer explained.
He added that the ministry also works with Palestinian Christian, Muslim and Jewish societies through bridge-building initiatives.
"We use our model and focus on the common moral values between the three Abrahamic faiths. We also provide many lectures to Jewish groups from abroad, and engage with others from the outside by inviting them to intern with us," Munayer added.
He said that these efforts receive mixed responses, as there are some in the Palestinian Christian and Messianic Jewish communities who support fellowship and reconciliation, and others that oppose it.
"Our communities are a reflection of our respective non-believing communities to some degree, and we see the same sort of polarization," Munayer noted.
Other Christian leaders in Gaza have also rejected the habit of laying blame on one side for the ongoing conflict.
Dr. Munir S. Kakish, Chairman Council of Local Evangelical Churches in the Holy Land, told CP last week that "one piece of information often not known is that there are Christians in Palestine, Gaza and the West Bank. There have been Christian Arabs here since the time of Jesus," he pointed out.
Kakish noted that as long as both Israel and Palestine continue to stake claim over disputed territories without compromise, peace cannot be achieved.
He also suggested that Hamas does want a ceasefire, but the blockade on Gaza will have to be lifted for that to happen.
"They want a meaningful ceasefire to end the seven years of blockade and travel restrictions that make Gaza one large prison. They want a deal to make life livable," Kakish asserted. "The West did not address the problems in the Gaza strip. The blockade, travel restrictions, economic disaster, lack of any healthcare have all created a condition where life is not acceptable."
At the same time, Kakish noted that Israel "wants to make sure her southern borders are safe with no more rockets being thrown at them."
Further articles on reconciliation and current projects undertaken on that effort are available on the Musalaha website.