UN Demands 'Immediate and Unconditional' Gaza Cease-Fire as Death Toll Tops 1,000; Obama Backs Israel in Netanyahu Phone Call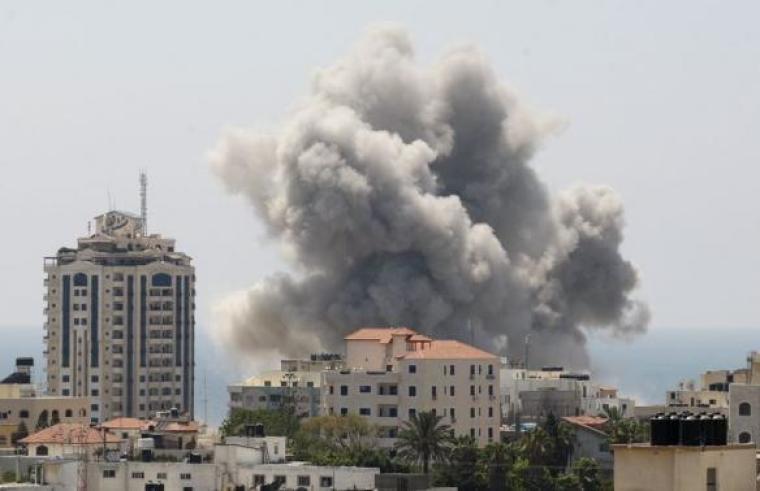 The U.N. Security Council has demanded an "immediate and unconditional" cease-fire in Gaza on Monday morning after the Israel-Hamas conflict topped 1,000 deaths. U.S. President Barack Obama has meanwhile backed Israel's right to defend itself with Israeli Prime Minister Binyamin Netanyahu, but expressed concern with the mounting civilian deaths.
The U.N. statement called for both Israel and Hamas "to accept and fully implement the humanitarian cease-fire into the Eid period and beyond," Fox News reported, explaining that this will allow for the delivery of much needed assistance.
Israel and Hamas had reached a 12-hour humanitarian truce on Saturday that was extended to another 24 hours, following pressure from U.S. Secretary of State John Kerry and other foreign ministers. Hamas has reportedly continued to fire rockets during that time, however, and Israel has said that it will continue to neutralize terrorist threats.
The Associated Press reported that the almost three-week conflict has killed at least 1,030 Palestinians and 43 Israeli soldiers.
The White House said on Sunday that Obama and Netanyahu have spoken by phone on the situation in Gaza, where the U.S. president said that Israel has the right to defend itself from militant threats.
"The President underscored the United States' strong condemnation of Hamas' rocket and tunnel attacks against Israel and reaffirmed Israel's right to defend itself. The President also reiterated the United States' serious and growing concern about the rising number of Palestinian civilian deaths and the loss of Israeli lives, as well as the worsening humanitarian situation in Gaza," the readout said.
Obama further highlighted "the strategic imperative of instituting an immediate, unconditional humanitarian ceasefire" that should lead to a permanent cessation of hostilities, based on the November 2012 ceasefire agreement.
The U.S. also backed Egypt's proposal for a truce, which Hamas has rejected repeatedly and insisted that no truce can be reached until an economic blockade is lifted from Gaza.
"The President underscored the enduring importance of ensuring Israel's security, protecting civilians, alleviating Gaza's humanitarian crisis, and enacting a sustainable ceasefire that both allows Palestinians in Gaza to lead normal lives and addresses Gaza's long-term development and economic needs, while strengthening the Palestinian Authority," the readout continued.
"The President stressed the U.S. view that, ultimately, any lasting solution to the Israeli-Palestinian conflict must ensure the disarmament of terrorist groups and the demilitarization of Gaza."
Israel, which has launched ground operations into Gaza, has explained that it is targeting terror tunnels and other sites which it says are a direct danger to Israeli territory.
"Hamas uses schools, residential buildings, mosques and hospitals to fire rockets at Israeli civilians," Netanyahu has said.
"Hamas uses innocent civilians as a human shield for terrorist activity."
During the council meeting, Palestinian U.N. Ambassador Riyad Mansour insisted, however, that there should have been a binding resolution demanding an immediate halt to Israel's "aggression," and protection for Palestinian people.
"You cannot keep 1.8 million Palestinian civilians in the Gaza Strip in this huge prison," Mansour said. "That is a recipe for disaster, it is inhumane, and it has to be stopped and it has to be lifted."
Israel's U.N. Ambassador Ron Prosor reflected that Israel has always accepted cease-fire proposals, though Hamas has not.
"Every single time the international community called for a cease-fire, we ceased and Hamas fired," Prosor said.
He also criticized countries who aid Palestinians in Gaza, claiming that the tax dollars "are not being used towards education, civil services or development – they are being used to develop a terrorist stronghold."
Last week a shell destroyed a U.N. school in Gaza, killing 16 people and injuring over 200 seeking shelter. While neither side has accepted responsibility for the incident, U.N. Secretary-General Ban Ki-moon condemned the attack.
"I am telling to the parties – both Israelis and Hamas, Palestinians, that it is morally wrong to kill your own people. Whole world has been watching, is watching with great concern. You must stop fighting. And enter into dialogue," Ban said.