Pope Francis Pleads for Peace as Israel-Palestine Fighting Carries On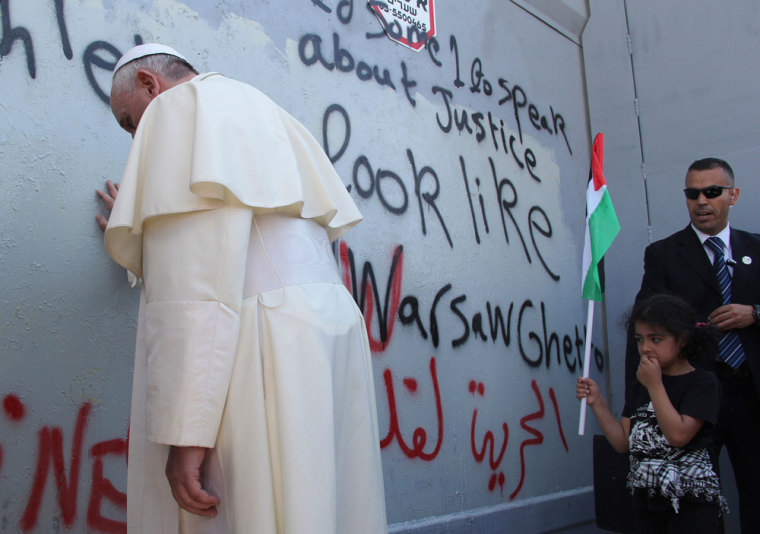 As the fighting between Israel and Hamas militants in the Gaza Strip carried on with no breakthrough in efforts for an enduring ceasefire, Pope Francis on Sunday broke off from his scripted weekly Angelus address and said, "Please stop," pleading for peace in the world.
"Brothers and sisters, never war, never war! I am thinking above all of children, who are deprived of the hope of a worthwhile life, of a future," the pontiff said in Saint Peter's Square on Sunday, speaking of the forthcoming centenary of the World War I.
"I think especially of the children whose hopes for a dignified future are taken from them, dead children, injured and mutilated children, orphans and children who have bits of weapons as toys, children who don't know how to smile," news.va, the official Vatican network, quoted him as saying.
"Please stop. I ask you with all my heart," Francis pleaded, saying he was especially thinking of the Middle East, Iraq and Ukraine.
More than 1,000 Palestinians have died since Israel launched a military operation over 20 days ago. An Israeli soldier was also killed last week by a shell fired from Gaza. At least 43 Israeli troops have died in the fighting, including three civilians, according to the Israeli army.
The UN Security Council on Monday called for "an immediate and unconditional humanitarian cease-fire in Gaza."
On Sunday, U.S. President Barack Obama urged Israel's Prime Minister Benjamin Netanyahu for an "immediate, unconditional" ceasefire, according to Sky News.
Obama "made clear the strategic imperative of instituting an immediate, unconditional humanitarian ceasefire that ends hostilities now and leads to a permanent cessation of hostilities," according to the White House.
Hamas, which claimed it had accepted a UN request for a 24-hour extension of a humanitarian truce in Gaza on Sunday, fired rockets at Israel. However, Sky News correspondents in Gaza and Israel said fighting has calmed on both sides since the start of the 12-hour humanitarian truce Saturday, followed by a 24-hour ceasefire.
Pope Francis has been calling for better relations between Israel and Palestine since before the fighting began.
At a ceremony attended by Israeli President Shimon Peres and Palestinian President Mahmoud Abbas in the Vatican Gardens at the Vatican on June 9, Francis said God alone can bring peace to the Holy Land and that it is the "evil one" who is blocking it.
"More than once we have been on the verge of peace, but the evil one, employing a variety of means, has succeeded in blocking it," the pope said, according to Catholic News Service. "That is why we are here, because we know and we believe that we need the help of God."
Francis invited the two leaders during his first visit as pope to the Holy Land in May. The two presidents met for the first time at a public meeting in more than a year.
During his trip to the Holy Land, the pope spoke in favor of the rights of Palestinians to a sovereign homeland as well as Israel's right to exist in peace.