Christmas Ads Cannot Promote Search for God, Federal Court Rules in DC Metro Dispute With Catholics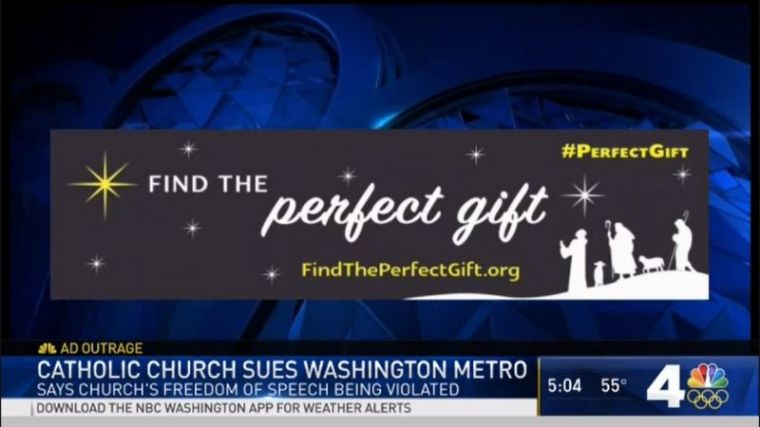 A federal court decided on Friday against an injunction request by the Catholic Archdiocese of Washington D.C. in its case against Metropolitan Area Transit Authority's policies that ban "issue-oriented advertising," such as urging people to search for God on Christmas.
The archdiocese had filed a lawsuit against Metro for its refusal to sell ad space on buses featuring its Christmas ad campaign "the perfect gift," which refers to Jesus Christ.
U.S. District Judge Amy Berman Jackson deemed that the archdiocese is not likely to succeed in its case, which is based on free speech and other First Amendment concerns.
Jackson also rejected claims that separate Salvation Army and yoga studio ads that Metro accepted are showing a double standard.
"It is about as distant from the ancient Indian religious traditions that gave rise to yoga as Black Friday at Best Buy is from Bethlehem," the judge wrote, according to WTOP.
Ed McFadden, secretary of communications for the Archdiocese of Washington, responded to the decision by stating:
"We are disappointed that the federal court denied our emergency request for an injunction to run our 'Find the Perfect Gift' Advent ad campaign."
"While this preliminary ruling that there should be no room made for us on WMATA buses is disappointing, we will continue in the coming days to pursue and defend our right to share the important message of Christmas in the public square," he added, according to NBC Washington.
Metro spokeswoman Sherri Ly explained that the agency's policies have been firmly in place for a couple of years now.
"In 2015, WMATA changed its advertising policy to prohibit issue-oriented advertising, including political, religious and advocacy advertising," Ly stated.
"The ad in question was declined, because it is prohibited by WMATA's current advertising guidelines."
Metro made the policy decision back in May 2015 after an activist group petitioned to run a controversial ad depicting the Islamic Prophet Muhammad, which is considered offensive for Muslims.
The website for the Catholic campaign states that "Jesus is the perfect gift," promoting mass times and church worship in D.C.
The archdiocese's lawsuit against Metro argued that the ban on religious advertising is "hostile to religion."
"The ban effectively silences any viewpoint that might challenge commercialism or consumerism or attempt to emphasize the religious reason for the season," it adds.
Susan Timoney, secretary for pastoral ministry and social concerns for the Archdiocese, said back in November:
"Our ad was designed to be placed on metro bus exteriors to reach the broadest audience and to invite everyone to experience the well-accepted joyful spirit of the season, or to share their many blessings with others less fortunate through service opportunities."
Timoney added: "The Archdiocese wishes to encourage our society to help feed, clothe, and care for our most vulnerable neighbors, and to share our blessings, and welcome all who wish to hear the Good News."