Christmas Around the World: A Look at 6 Countries' Traditions — From Festivities to Secrecy
2. Italy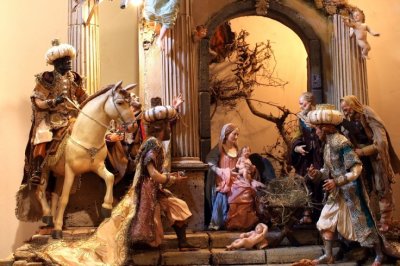 Italy begins its Christmas season with the religious Feast of the Immaculate Conception on Dec. 8, which is also a national holiday where Catholics celebrate the conception of Mary.
The Castel Sant'Angelo museum in Rome fires off a cannon to mark the start of festivities, which includes parades, bonfires and fireworks.
Nativity Scenes, which are used in many Western countries and worldwide as representations of Jesus' birth, are especially popular in cities like Naples. The tradition of the crib scene is believed to have originated in the 13th century when St. Francis of Assisi asked a local villager to create a manger to help re-enact the Nativity. It has played a huge role in Italian Christmas art and decorations ever since.
The Vatican hosts a full Advent and Christmas calendar, lighting its Christmas tree early on in December, with a midnight Mass at in St. Peter's Basilica on Christmas Eve serving as one of the highlights.
After delivering the homily on the meaning of Christmas on Christmas Eve, the pope then delivers his annual Christmas message on Christmas Day at noon, sending out his traditional blessing to Rome and the world.