Christmas Carol Video Featuring World's Largest Nativity Gets Over 1.7 Million Hits in 4 Days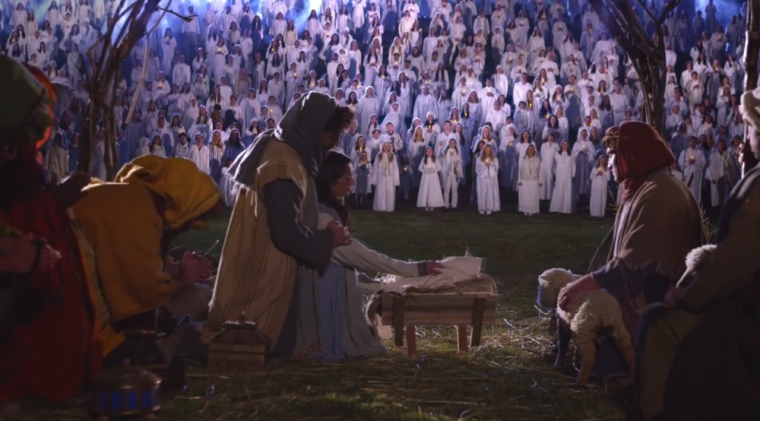 A Christmas-themed music video posted on YouTube featuring the Guinness World Record holder for largest living nativity has garnered over 1.7 million views in less than a week.
Posted by The Piano Guys on Friday, the music video features the living Nativity scene held earlier this month at Provo, Utah, that had over 1,000 participants.
Featuring a hymn fusing the two carols "Angels from the Realms of Glory" and "Angels We Have Heard On High," the video has garnered more than 1.7 million views, over 56,000 likes, and more than 3,200 comments as of Tuesday morning.
The Christmas carol was performed by The Piano Guys, along with singer-songwriter Peter Hollens and former American Idol contestant David Archuleta.
Earlier this month, organizers gathered at the Rock Canyon Park in the city of Provo from 2 to 8 p.m. MST to break the record for largest living Nativity scene.
With a tally of 1,039 participants, the Provo display successfully broke the record previously held by Lancashire in the United Kingdom in December 2013; 898 volunteers took part for that attempt.
John Dye, one of the organizers for the Provo nativity, told The Christian Post in an earlier interview that the success of the living nativity was "nothing short of a miracle."
"We felt in many instances that we had help from above. A week prior, the forecast was showing a 60% chance of rain — which would have been catastrophic for a production of this nature. But the shoot day was sunny and clear," said Dye.
"It amazed us that people — on incredibly short notice — were willing to change any plans they may have previously had during this busy holiday season to stand in long lines, and be willing to come dressed up as angels and take direction for 5-7 hours in the cold to help break the record and shoot the video."