Christmas movie 'Buttons' featuring Roma Downey in theaters for 1 night only on Saturday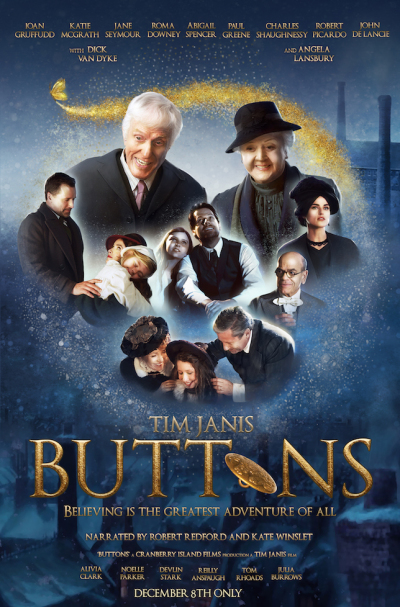 The musical film "Buttons" will be playing in theaters nationwide for one night only  — Saturday — and features a star-studded cast who tell the Christmas story about angels and miracles. 
Narrated by Academy Award winners Robert Redford and Kate Winslet, the cast includes: Roma Downey, Dick Van Dyke, Angela Lansbury, Jane Seymour, Abigail Spencer, Paul Greene and Katie McGrath, with a special performance by Paul McCartney. 
"Buttons" is set in the 1900s "in a New England mill town  where two orphan children meet two unexpected visitors who turn the tide of events and change their lives forever," a synopsis of the musical reads.
Downey plays a nun who rescues one young sickly orphan on Christmas Eve and sneaks her into a children's hospital where she's visited by a mysterious angel who teaches her to believe in miracles. 
The musical fairy tale is from director Tim Janis who combines allure, dance, song and faith to tell the heartwarming story. 
"I am thrilled to bring 'Buttons' to theaters with Fathom Entertainment. I've always loved the classic Hollywood musicals and to work with Dick Van Dyke & Angela Lansbury is an honor of a lifetime," Janis said in a statement shared with The Christian Post. 
The film also includes a special tribute to the late Gene Kelly hosted by Patrica Ward Kelly, the wife of the legendary dancer, director and choreographer.
"Gene Kelly has also been a hero and inspiration to me, so I'm excited to include a special tribute to him hosted by Patricia Ward Kelly," Janis added.
Tickets for the one-night event are on sale now at FathomEvents.com and participating theaters. A portion of proceeds from ticket sales will go to actress Kate Winslet's Golden Hat Foundation, an autism nonprofit organization founded by Winslet and Margret Ericsdottir.