Church Offers Protection to 700 Muslims Fleeing Christian Militia: 'We Won't Let Christians or Muslims Hurt These People'
A Central African Republic priest has opened his church as a shelter to Muslims fleeing the anti-balaka (anti-machete) Christian militias terrorizing his community.
"I am not going to let anyone hurt the people inside my church, it doesn't matter whether they are Christians or Muslims," Xavier Fagba, who leads a church in Boali, a city northwest of the capital Bangui, told FRANCE 24.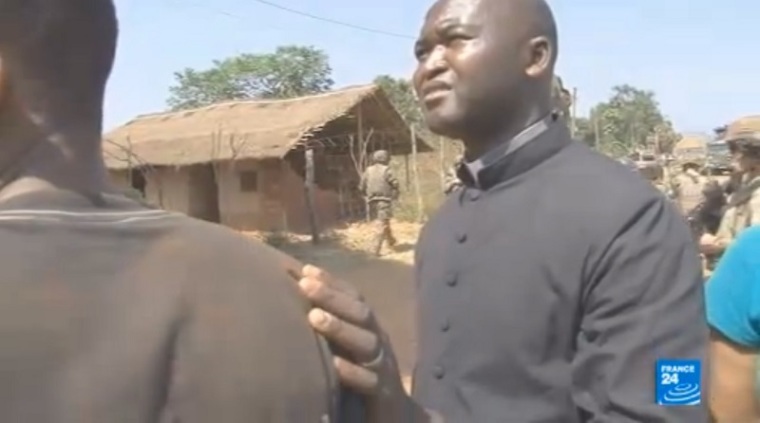 At the service on Sunday, Fagba told his congregation to make their Muslim counterparts feel comfortable and greet one another with a "kiss of peace."
"We just stop causing people pain," he said.
Jean-Claude, a Christian, encouraged Ahmad - his Muslim neighbor for years - with a hug at the end of the service.
"You need to be strong. Stay positive," Jean-Claud told his neighbor, who recently had his house destroyed in the violence.
Ahmad said that although he felt that there were individuals trying to protect him, he felt that he would not be fully safe unless he made it to the capital.
"There are people here who are good to us," Ahmad told The Daily Nation. "But we can't stay here any longer. We have to leave. I want to go to Bangui, at least there is still some safety there."
Currently about 70 French troops are guarding Fagba's church, where 700 Muslims, mostly women and children, are staying. The volume of people has put a strain on the church's resources, especially its sanitary conditions, however, without a method to evacuate the people safely they are planning to remain sheltered there.
Fagba told BD Live that the church needed "trucks to evacuate all these people" as Muslims who flee on the road could be confronted with spontaneous roadblocks set up by the Christian militia.
Many of the individuals who fled to Fagba's church were headed toward the capital when they were targeted by members of the Christian militia. Although French soldiers had been able to fight off a Muslim group earlier, they were ill-prepared for the anti-balaka group. The attack killed four people and wounded 20 others, reported local priest Boris Wiligale.
Over 1,000 Central African Republic citizens have died in the violence between the country's Muslims and Christians. There are nearly one million internally displaced people who have been forced from their homes, many of whom have fled to the capital and set up makeshift refugee camps near the airport.
Out of a population of 4.23 million people in Central African Republic, only 15 percent are Muslim. Throughout 2013, many Christians were targeted by Muslim Seleka groups that reportedly looted Christian homes, raped women and killed scores of people. In response, Christian anti-balaka groups have sprung up in retaliation — raising international alarm and fears that the fight could spark a genocide.